 Tummy Tuck, or Abdominoplasty, is a cosmetic surgical procedure that tightens and tones the abdominal muscles.
Anesthesia
General
Hospitalization
1 Night
Operation Time
1-3 Hours
Recovery Time
3 Weeks
What is Tummy Tuck?
A tummy tuck, known as abdominoplasty, is a popular cosmetic surgery that redefines your abdominal area. It's all about body contouring, trimming away excess fat, tightening loose skin, and repairing weakened abdominal muscles. This is not a simple Liposuction; it's an art that requires the skilled hands of a certified plastic surgeon.
Mini Tummy Tuck vs. Full Tummy Tuck
In abdominoplasty, there are two main types: complete and mini. A full tummy tuck targets the entire abdominal region. At the same time, a mini tummy tuck or mini abdominoplasty focuses on the lower abdomen. Your plastic surgeon will recommend the most suitable option based on your anatomy and aesthetic goals.
Diving deeper into the world of abdominoplasty, let's compare a mini tummy tuck with a full tummy tuck:
The extent of the Procedure: A Full Tummy Tuck reshapes the upper and lower abdomen. A Mini Tummy Tuck mainly focuses on the lower abdomen, below the belly button.
Length of Surgical Incision: In a Full Tummy Tuck, the Surgical Incision usually spans from hip to hip, whereas, in a Mini Tummy Tuck, the incision is typically shorter.
Belly Button Reshaping: A Full Tummy Tuck often involves Belly Button Reshaping since the entire abdominal skin is being repositioned. In a Mini Tummy Tuck, the belly button is usually not moved, as the skin above it remains untouched.
Muscle Repair: Both types can include Muscle Repair, but a Full Tummy Tuck allows for more comprehensive repair of the abdominal muscles, especially if there is significant muscle separation above the belly button.
Recovery Period: As the Mini Tummy Tuck is less invasive, the Recovery Period is usually shorter than a Full Tummy Tuck.
Results: A Full Tummy Tuck can provide dramatic results, especially for those with significant excess skin and fat. A Mini Tummy Tuck might be a good choice for those who are relatively fit but have a slightly lower belly bulge resistant to diet and exercise.
The decision between a mini or full tummy tuck should be discussed with a qualified plastic surgeon who can guide you toward the best option for your goals and body.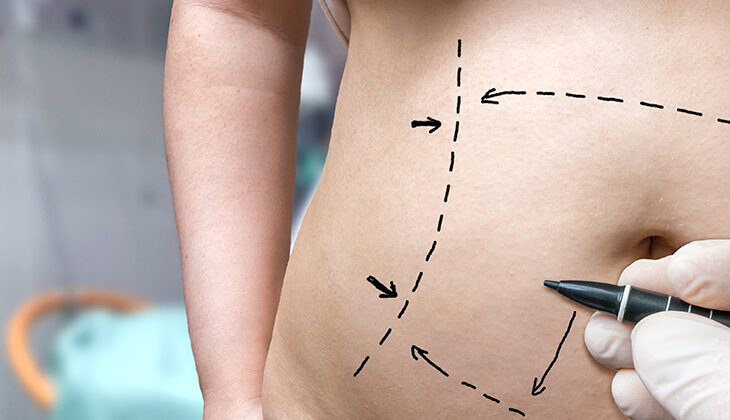 Who performed a tummy tuck?
A tummy tuck is ideal for healthy people with a stable body mass index (BMI). It's particularly beneficial for those dealing with post-pregnancy body changes or significant weight loss effects.
The Tummy Tuck Process
A tummy tuck involves making a surgical incision, removing excess fat, performing muscle repair, and tightening the skin. It's typically done under anesthesia. After surgery, you'll wear compression garments to support healing. Surgical drains may be placed to remove fluids.
Post-Operative Care
Your recovery period will involve scar care and managing post-operative swelling. During a follow-up visit, your surgeon will remove surgical sutures. Your surgeon will provide comprehensive post-operative care instructions.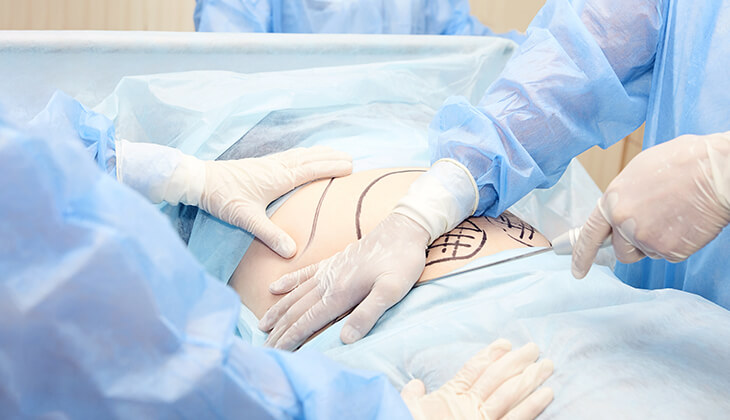 Risks and Complications
In your preoperative consultation, your surgeon will thoroughly discuss the possible risks associated with surgery, including infection and changes in sensation. You must provide informed consent, and your surgeon will emphasize its importance.
How long do tummy tuck results last?
With a stable weight and a healthy lifestyle, the results of your tummy tuck can continue for many years. When we talk about the longevity of tummy tuck results, we're stepping into territory where your personal choices and lifestyle play a significant role.
Maintaining a Stable Weight: Your Tummy Tuck's results can last for many years if you keep a stable weight post-surgery. This doesn't mean you can't fluctuate a few pounds here and there, but significant weight gain or loss can stretch or sag the skin, affecting the sleek, flat profile the surgery achieves.
Healthy Lifestyle: A balanced diet and regular exercise help maintain your weight and keep your body and skin in the best condition. This contributes to the long-lasting effect of the Tummy Tuck.
Pregnancy Post-Tummy Tuck: Pregnancy stretches the abdominal skin and can separate the tightened muscles, compromising the results of a Tummy Tuck. If you're considering future pregnancies, you might want to postpone the surgery until you've finished building your family.
Aging: Over time, natural aging can lead to skin elasticity and firmness loss. Although aging can alter your Tummy Tuck's results, the surgery's improvements will still be apparent.
Post-Operative Care: Following your surgeon's instructions for Post-Operative Care, such as wearing Compression Garments and taking care of your Surgical Incision, can enhance the healing process and help prolong the results.
Remember, every person's body responds differently to surgery and heals at its own pace. The key to long-lasting tummy tuck results lies in maintaining a healthy lifestyle and having regular check-ups with your plastic surgeon. You'll enjoy your new, contoured profile for many years!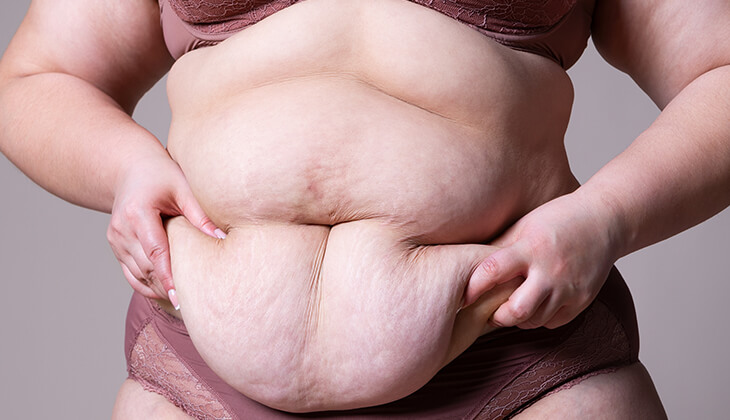 Conclusion
Most patients report high patient satisfaction following their tummy tuck. However, results vary based on individual circumstances. Non-surgical alternatives exist, but none can match the dramatic effects of a tummy tuck.
A tummy tuck, or abdominoplasty, isn't just about excess fat removal or skin tightening. It's about reshaping your contour and revamping your image. It's about the joy of slipping into clothes that show off your curves, the freedom of not hiding your belly anymore, and the renewed confidence that comes with feeling comfortable in your skin.
Importantly, this journey must begin and end with you. It's your body, and you're in control. Your wishes, your goals, and your vision should guide your decisions. A tummy tuck isn't about fitting into a societal standard of beauty; it's about creating a version of you that you love and cherish.
Of course, any transformative journey requires a trusted guide; in this case, it's a board-certified plastic surgeon. They are skilled artists who can bring your vision to life by sculpting and shaping your body while prioritizing your safety and satisfaction.
In conclusion, a tummy tuck is more than cosmetic surgery. It's about reclaiming your body and boosting your confidence. Besides, consult a board-certified plastic surgeon to discuss your specific goals and expectations. This is your body, and you call the shots!
Remember, the choice between a mini tummy tuck and a full tummy tuck should be made in consultation with a qualified plastic surgeon who knows your goals and can guide you toward the best decision for your body.
Make an Appointment
Get better health and self-assurance from professional medical attention. Get started now by consulting with one of our experts.
Things to Know About Tummy Tuck
Before deciding on a tummy tuck, educating yourself on the procedure and setting realistic expectations is critical. A tummy tuck, also known as abdominoplasty, is a highly individualized surgery, with outcomes influenced by factors such as the patient's anatomy, overall health, and the extent of the surgery.
Understanding potential risks is critical. These may include complications such as infection, blood clots, and unfavourable scarring. Choose an experienced and board-certified plastic surgeon to ensure the best results from your tummy tuck. Discuss your concerns and expected outcomes thoroughly, and strictly adhere to all post-operative care guidelines.
Free Consultation
We check your medical background to determine if a surgery suits you.
Plan the Surgery
Together, we decide the surgery date and details and you book tickets to Istanbul.
Operation
We will ensure your only concern would be taking enough rest.
Post-Op
Our Professional team follows your recovery and post-operational development.
Turkey has become a well-known place for tummy tuck surgeries, and people come from all over the world to get them done there. The country has a lot of highly trained plastic surgeons and state-of-the-art medical facilities so people can get top-notch care at affordable prices.
Patients who get a tummy tuck in Turkey can take advantage of surgeons who are well-versed in modern surgical techniques. This ensures the best results and complete patient satisfaction. Getting a tummy tuck in Turkey is a good idea because the exchange rate is reasonable, and you can combine the surgery with a vacation.
The cost of a tummy tuck can vary depending on several factors, such as the surgeon's level of experience, the area in which you are having the procedure, the complexity of the procedure, facility fees, and anesthesia-related costs. The average cost of a tummy tuck in the United States is between $8,000 and $30,000.
It's important to realize that these costs are estimates and may change depending on many factors. The best course of action for understanding your particular needs and getting a precise price quote for the tummy tuck you're considering is to consult a board-certified plastic surgeon.
The price of a tummy tuck in Turkey can be significantly lower than in many other countries, making it an attractive option for affordable healthcare and high-quality medical care. In Turkey, a tummy tuck typically costs between $3,000 and $7,000. The complexity of the surgery, the surgeon's experience, and the clinic's location are all factors that can affect this. It's crucial to choose a reputable surgeon with extensive experience for the best outcomes and safety and to confirm that the facility complies with international standards.
Average Tummy Tuck cost by country

| Country | $ Price | € Price |
| --- | --- | --- |
| Turkey | $3,000 - $7,000 | €2,800 - €6,500 |
| United States | $8,000 - $30,000 | €7,500 - €27,500 |
| United Kingdom | $10,000 - $25,000 | €9,000 - €23,000 |
| Canada | $9,000 - $20,000 | €8,000 - €18,500 |
| Mexico | $5,000 - $12,000 | €4,500 - €11,000 |
| Australia | $7,500 - $22,000 | €7,000 - €20,000 |
| France | $6,500 - $19,000 | €6,000 - €17,500 |
| Germany | $9,500 - $18,000 | €8,500 - €16,500 |
| Italy | $7,500 - $14,500 | €7,000 - €13,500 |
| Netherlands | $8,700 - $17,000 | €8,000 - €15,500 |
| Spain | $7,500 - $14,500 | €7,000 - €13,500 |
| Portugal | $3,500 - $8,000 | €3,200 - €7,500 |
| Russia | $6,000 - $12,500 | €5,500 - €11,500 |
| Israel | $8,000 - $15,000 | €7,500 - €13,800 |
Get

in

touch

now

for

your

free,

customized

quote!
Get a Quote
Plastic Surgery
Absolutely! Belly button reshaping is part of the tummy tuck procedure. Your surgeon will take good care that your belly button looks natural and well-positioned.
As with any cosmetic procedure, it is important to have realistic expectations and to discuss any concerns with your surgeon during the preoperative consultation. Your journey to a flatter, firmer abdomen starts with being well-informed!
While a Tummy Tuck does involve the removal of Excess Fat, it's not a Weight Loss Surgery. Its primary goal is to contour and sculpt the abdominal area. For substantial weight loss, a healthy diet and regular exercise are still your best bets.
The recovery period differs from person to person; however, generally, most people can return to non-strenuous activities within 2 to 3 weeks. Full recovery and the final results may take several months as post-operative swelling gradually subsides.
Scarring is inevitable with any surgical procedure. However, your plastic surgeon will aim to place the surgical incision in a less visible area, typically along the bikini line. Proper scar care, including protecting the area from the sun and using recommended creams, can significantly improve the scar's appearance over time.
A Tummy Tuck, medically known as abdominoplasty, works by surgically removing surplus skin and fat from the midsection, while simultaneously tightening the underlying abdominal muscles. This procedure not only trims th e waistline but also restores a toned, flat appearance to the stomach, boosting your body confidence.
The cost of a Tummy Tuck in Turkey ranges between $3,000 and $7,000, though it can vary based on the patient's specific needs and the clinic chosen.