Treatment
Zirconium Veneer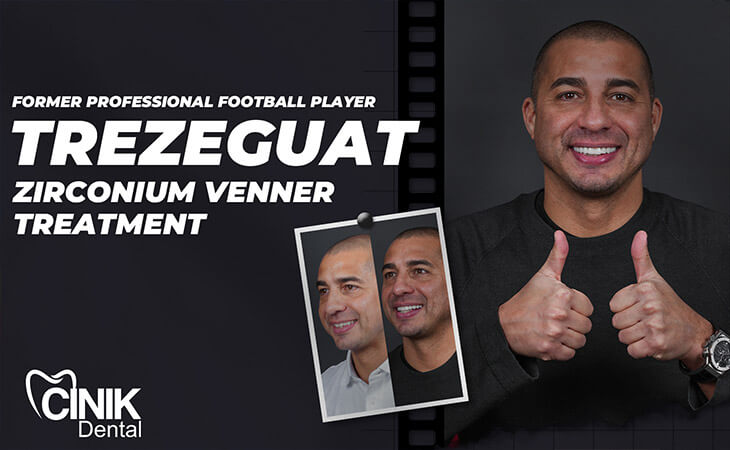 David Trézéguet's Dental Journey
David Trezeguet, a name that resonates with football enthusiasts worldwide, recently made headlines for a different reason. The football legend opted for a zirconium crown, a decision that sparked interest in dental aesthetics. Let's discover why Trezeguet chose this treatment and entrusted his smile to DR. CINIK at Cinik Dental.
David Trezeguet, a football icon who played for a number of premier teams, including Juventus and River Plate, has left an indelible mark on the game. Throughout his career, he has received numerous honours and has been recognized for his exceptional talent and genuine sportsmanship. Trezeguet's prowess on the field is well-documented, but his recent off-field decision has caught our attention. His choice to enhance his smile with a "zirconium veneer" has brought dental aesthetics into the limelight.
David Trézéguet's Zirconium Veneer Treatment
David Trezeguet recently underwent a dental treatment involving zirconium veneers. This was not a quick decision; it resulted from severe thought and consultation with dental professionals. The aim was to enhance his smile while ensuring the health and integrity of his teeth. The result? A radiant, confident smile that matches his vibrant personality. His decision to opt for zirconium veneers has sparked interest in this dental treatment, with many people now curious about the benefits and process involved.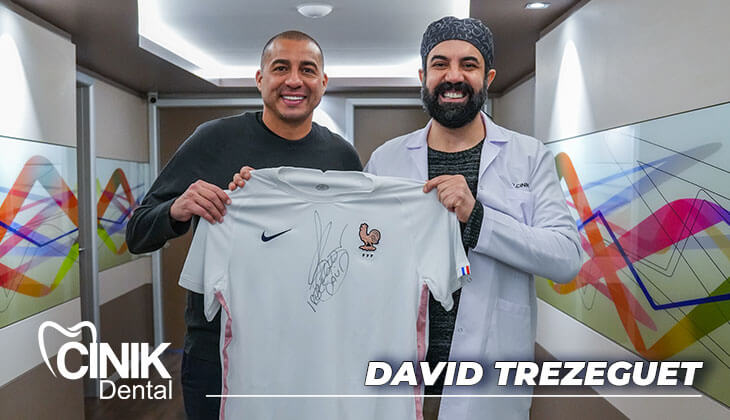 Is Zirconium Tooth Veneer Permanent?
While no dental restoration can be considered truly permanent, zirconium veneers are about as close as it gets. These veneers will last for years with reasonable care and regular dental check-ups, making them a long-term alternative for individuals looking to improve their smile. It should be noted that the longevity of zirconium crowns is also dependent on the patient's oral hygiene practices. Regular brushing, flossing, and dental check-ups are crucial to maintaining the veneers and ensuring longevity.
Zirconium Veneer Cost
The zirconium veneer price can vary significantly, depending on the individual's specific needs and the case's complexity. At Cinik Dental, the team is committed to providing high-quality dental care that is also affordable. Here is a basic breakdown of the costs associated with zirconium veneers at Cinik Dental:
| | |
| --- | --- |
| Treatment | Price |
| Zirconium Crown | € 930 |
| 10 Crown/Veneer | € 3610 |
These are suggested zirconium veneer prices, and the actual cost may vary depending on the patient's individual demands.
It's vital to note that the price of zirconium veneers covers not only the veneers themselves but also the dental team's professional services, such as consultation, fitting, and follow-up care. Patients are encouraged to consult with the team at Cinik Dental to get a personalized quote based on their specific needs and treatment plan.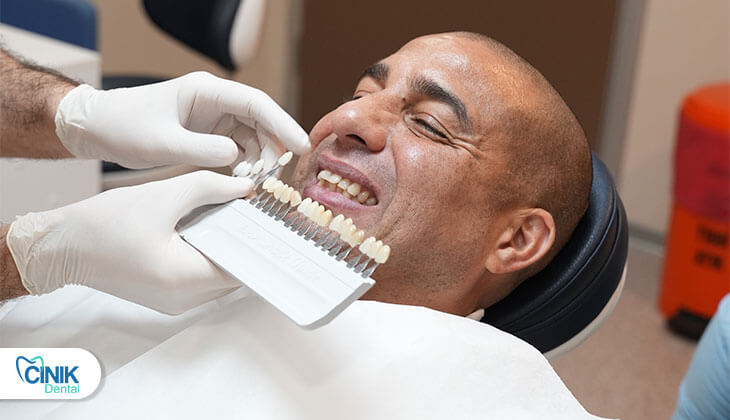 What are the Advantages of Zirconium Dental Veneers?
Zirconium dental veneers offer several advantages that make them a popular choice for individuals seeking to improve their smile. Here are some of the key benefits:
Durability
Zirconium veneers are highly durable and resistant to wear. They can withstand the forces of biting and chewing, making them an ideal choice for individuals who want a long-lasting solution to their dental issues.
Natural Appearance
One of the main advantages of zirconium crowns is their natural appearance. They are virtually indistinguishable from natural teeth, providing a natural and confident smile. This means they blend seamlessly with the rest of the teeth, enhancing the overall appearance without drawing attention to the restoration.
Biocompatibility
Zirconium veneers are biocompatible, so they are not prone to produce allergic responses. This makes them a safe choice for most individuals, even those with sensitive teeth or gums. The biocompatibility of "zirconium veneers" also means they are comfortable to wear, reducing the likelihood of discomfort or irritation.
Confidence Boost
A beautiful smile can significantly boost an individual's confidence. With "zirconium veneers", individuals can smile confidently, knowing their teeth look natural and attractive. This can improve a variety of facets of life, including social relationships and self-esteem.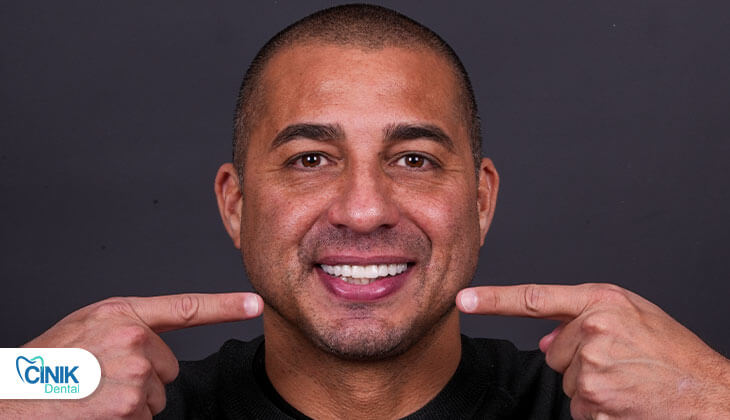 Why David Trezeguet Preferred Dr Cinik?
David Trezeguet chose Dr. Cinik for his zirconium veneer treatment due to the doctor's reputation for excellence in dental aesthetics. Dr. Cinik and the team at Cinik Dental offer various dental services with a special emphasis on customer comfort and pleasure. Their expertise and dedication to patient care made them the ideal choice for David Trezeguet's zirconium dental transformation. Dr. Cinik's approach to dental care involves understanding the patient's needs and providing personalized treatment plans. This patient-centric approach is what sets him apart in dental aesthetics.
Conclusion
David Trezeguet's zirconium veneer treatment is a testament to the advancements in dental aesthetics. His decision to trust Dr Cinik and his team at Cinik Dental underscores the importance of choosing a reputable and experienced dental professional. Whether you're a football legend like David Trezeguet or someone seeking to improve your smile, zirconium veneers offer a durable, natural-looking solution. Remember, a confident smile is always in style.
Make an Appointment
Get better health and self-assurance from professional medical attention. Get started now by consulting with one of our experts.
David Trézéguet Dental Before & After
The transformation of David Trezeguet's zirconium smile is nothing short of remarkable. The before and after photos showcase the dramatic improvement in his appearance, demonstrating the power of zirconium veneers to enhance one's smile. His new smile not only improves his appearance but also raises his confidence, demonstrating that a great smile is more than just a cosmetic enhancement. It has a significant impact on his self-esteem and overall happiness.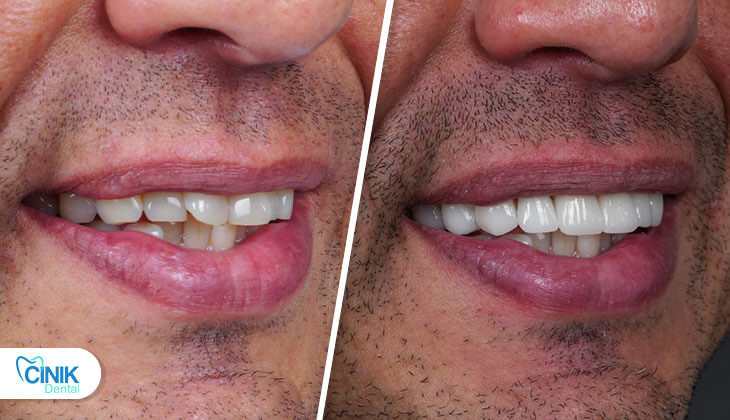 David Trézéguet Dental FAQs
Dental
While individual motivations can be personal, zirconium veneers offer a natural appearance, durability, and stain resistance, which might have influenced David Trézéguet's decision. Furthermore, DR. CINIK Clinic is renowned for its dental expertise, ensuring the best possible results.
Maintenance of zirconium veneers involves regular brushing, flossing, and attending dental check-ups. Additionally, it is advised to avoid biting on complex objects and potentially staining food and drinks.
After receiving veneers, post-procedural sensitivity can be a common occurrence. Nevertheless, individual experiences can differ. Regarding David Trézéguet's post-procedure expertise, it is best to consult direct sources or the DR. CINIK Clinic.
Typically, the placement of zirconium veneers requires two visits: one for consultation and tooth preparation and another for veneer placement. However, specific information regarding David Trézéguet's visits must be confirmed by direct sources.
The recovery period following zirconium veneers is typically brief, with most patients returning to their daily routines within a few days. However, individual recovery times can vary, and specific details about David Trézéguet's recovery are best confirmed through direct sources.