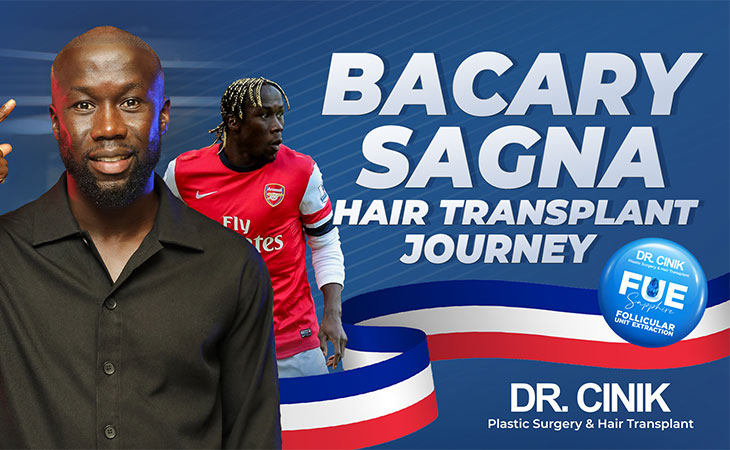 Bacary Sagna's Hair Transplant Journey
Bacary Sagna is a name that needs no introduction in the world of football. Fans of football all over the world fell in love with the former Arsenal player because of his excellent skills and unwavering commitment to the game.
However, like many others, Sagna experienced the common hair loss struggle. Determined to reclaim his confidence and restore his hairline, he made the decision to undergo a hair transplant. What led him to choose Dr. Cinik Hair Transplant Clinic for this life-changing procedure? How did Dr. Cinik Hospital and his team convince Bacary Sagna hair transplant that they were the right choice?
Bacary Sagna, a name that resonates with football enthusiasts worldwide, is a former professional footballer who gained fame for his impressive skills and contributions to the sport. Born on February 14, 1983, in Sens, France, Sagna embarked on his football journey that led him to numerous successful clubs.
Notably, he spent a significant part of his career as a right-back for the renowned English club, Arsenal. Sagna's exceptional performances on the field earned him recognition and admiration from fans and fellow players alike.
Bacary Sagna's Hair Transplant Operation
During Bacary Sagna's hair transplant at Cinik Clinic, a total of 2000 grafts were meticulously transplanted to restore his hairline and enhance his overall appearance. Grafts are individual hair follicles extracted from the donor area, typically the back of the head, and carefully transplanted to the recipient area where hair growth is desired.
The procedure performed on Sagna is known as FUE Sapphire (Follicular Unit Extraction) hair transplant, which combines the benefits of the FUE technique with the use of sapphire blades for incisions.
%100 Results
Success
Fue Sapphire Technique
The FUE Sapphire technique involves extracting hair follicles one by one using specialized micro-tools, leaving behind no visible linear scars. These follicles are then implanted into tiny incisions made with sapphire blades, which offer precise and minimally invasive incisions.
This advanced  technology ensures a natural-looking hairline, optimal density, and quick recovery. Dr. Cinik and his skilled team performed the procedure precisely, achieving excellent results and restoring Sagna's confidence.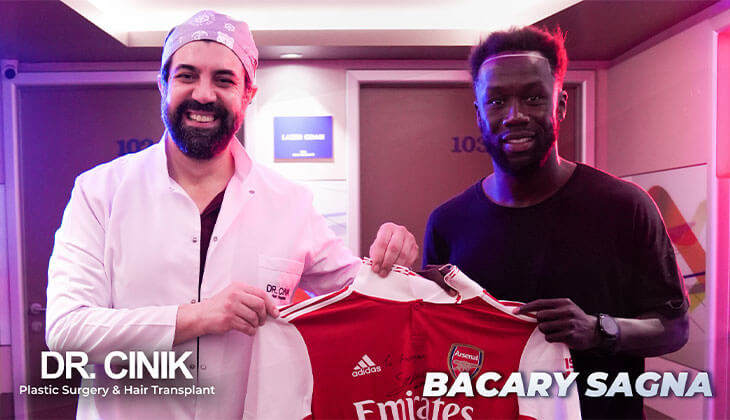 What is FUE Sapphire Hair Transplant? Who is FUE Sapphire Hair Transplant Applied to?
FUE Sapphire hair transplant is a state of the art hair restoration technique that combines the benefits of Follicular Unit Extraction (FUE) with the use of sapphire blades for incisions. The FUE Sapphire technique offers several advantages, including precise and minimally invasive incisions, faster healing, and reduced trauma to the scalp.
The procedure begins with the extraction of individual hair follicles from the donor area, typically the back of the head, using specialized micro-tools. These follicles are then meticulously transplanted into the recipient area, where hair growth is desired.
The use of sapphire blades during the incision-making process enhances the precision and accuracy of the procedure, resulting in a natural looking hairline and improved overall density.
FUE Sapphire hair transplant is suitable for individuals experiencing hair loss, receding hairlines, or thinning hair. The technique can effectively address these concerns and restore a full head of hair, providing individuals with renewed confidence and a more youthful appearance.
Advantages of Hair Transplantation in Cinik Clinic
Celebrity hair transplants have garnered attention and admiration for their ability to restore receding hairlines and bring back a full head of hair.
With the advancements in medical technology, these procedures offer natural-looking results that can't be distinguished from the celebrities' original hair. Sagna chose the esteemed Dr. Cinik Hair Transplant Clinic for his hair transplant in Turkey, placing his trust in the expertise of Dr. Emrah Cinik.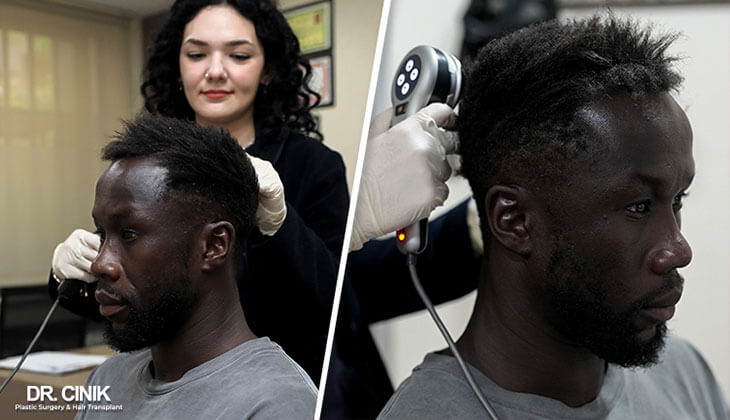 Why is Cinik Clinic the Preferred Choice for HairTransplant, Including for Bacary Sagna?
Here is a unique services offered by our Cinik Clinic and why they might be the preferred choice for esteemed clients like Bacary Sagna:
Optimal Graft Transplantation
At our clinic, we strive to transplant the highest number of grafts permissible in a single session. This approach allows our patients to achieve a more natural and denser hair look in a shorter time frame.
FUE Sapphire Precision Technique
Dr. Cinik utilize the FUE Sapphire method, renowned for its precision and less invasive incisions. This technique promotes quicker healing and results in a more natural hair appearance.
Comfortable Stay Facilities
We offer comfortable accommodation facilities for our patients, ensuring a stress-free experience during their treatment.
Exclusive Transfer Service
Our clinic provides exclusive VIP transfer services, facilitating easy and comfortable travel between the airport, hotel, and our clinic.
Personal Consultation with Dr. Cinik
Our patients have the unique opportunity to consult directly with Dr. Cinik, a globally recognized hair transplant surgeon. This allows for personalized treatment plans and instills confidence in our patients about the care they receive.
Pre-Procedure Health Check
We conduct essential blood tests to ensure the safety and effectiveness of the hair transplant procedure. This step is crucial to identify any potential health concerns that could impact the procedure.
Post-Procedure Care Essentials
Dr. Cinik Hospital provides all necessary medications and care products required for post-operative care. This ensures our patients have everything they need for a smooth recovery and the best possible results.
Detailed Hair and Scalp Assessment
We perform a comprehensive hair and scalp analysis to understand the degree of hair loss and overall scalp health. This aids in devising an effective treatment strategy.
Language Assistance
We offer translation services to ensure clear and effective communication with our international patients. This helps us better understand our patients needs and expectations.
Initial Post-Procedure Hair Wash
We also oversee the first hair wash after the surgery. This is important as the correct technique and care are required to protect the newly transplanted hair.
Comprehensive Post-Procedure Support
Dr. Cinik Hospital provides extensive post-operative care services to monitor the progress of the transplant and promptly address any concerns or complications.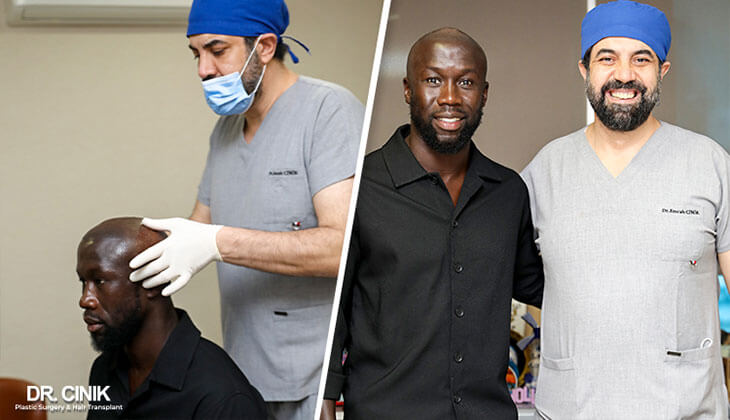 Conclusion
Bacary Sagna's decision to undergo a hair transplant in Turkey at Cinik Hair Transplant Clinic, under the skilled hands of Dr Cinik Hospital, has been a life-changing experience. The advantages off the Dr Cinik Hair Transplant, including VIP service, professional interpreters, and comprehensive packages, ensured that Sagna received top-notch care and a comfortable journey throughout his hair transplant process.
With 2000 grafts skillfully transplanted using the FUE Sapphire technique, Sagna's hairline was beautifully restored, enhancing his appearance and boosting his self-confidence. Dr. Cinik's expertise and the exceptional services provided by his clinic have solidified its position as a leading institution in the field of hair restoration, attracting celebrities and individuals seeking outstanding results.
Make an Appointment
Get better health and self-assurance from professional medical attention. Get started now by consulting with one of our experts.
Bacary Sagna Hair Transplant Before & After
Bacary Sagna's decision to undergo a hair transplant at Dr. Cinik has proven to be transformative, both in terms of his appearance and self-confidence. Before the procedure, Sagna experienced significant hair loss, which affected his self-esteem. However, after the successful transplantation of 2000 grafts using the FUE Sapphire technique.
Sagna's hairline was significantly restored, giving him a rejuvenated and more youthful look. The natural results achieved through the advanced procedure are evident in Sagna's before and after photos, showcasing the expertise of Dr Cinik Hair Transplant and the positive impact has had on Sagna's life.
Bacary Sagna Hair Transplant FAQs
Hair Transplant
Bacary Sagna chose the Sapphire FUE technique for his hair transplant at DR. CINIK Clinic, a cutting-edge method renowned for its accuracy and positive post-operative results.
Bacary Sagna had a total of 2,000 grafts skillfully transplanted during his procedure at DR. CINIK Clinic. This number was carefully determined to ensure a natural-looking result, addressing the areas where enhancement was desired.
DR. CINIK Clinic used the advanced Needle-Free anesthesia method for Bacary Sagna's procedure, ensuring a more comfortable and less invasive experience compared to traditional needle-based anesthesia.
The Sapphire FUE technique is favored due to its capacity to reduce scarring and accelerate healing. The method employs sapphire blades, resulting in precise incisions and enhanced outcomes. These benefits probably influenced Bacary Sagna's choice.
Individuals choose hair transplantation, such as the Sapphire FUE technique, for various reasons, including addressing thinning hair, improving their hairline, or increasing their overall hair density and appearance. Bacary Sagna opted for the procedure at DR. CINIK Clinic in pursuit of an improved appearance and fuller hair.