Treatment
Teeth Whitening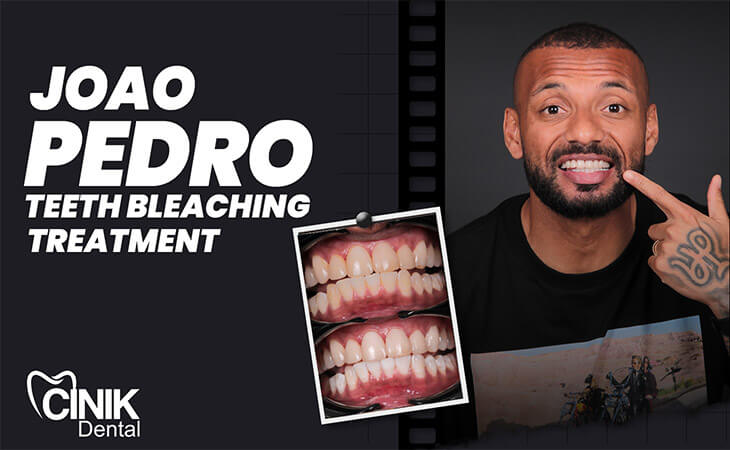 João Pedro's Dental Journey
However, physical fitness and agility take centre stage in the realm of football. Another element that goes unnoticed-the players' smile. A luminous smile is a potent tool that elevates confidence levels while positively impacting others. Joao Pedro took it upon himself to undergo teeth whitening treatment at Cinik Dental, ending him with newfound radiance and enhanced self-assurance. Curiosity begs the question: What motivated him to choose this particular treatment? And why did he select Dr Cinik as his trusted dentist? Let us venture into Joao Pedro's teeth bleaching details.
Joao Pedro, a highly esteemed football player, is widely recognized for his unparalleled abilities and unwavering commitment to the sport throughout his football career. He has attained remarkable accomplishments, garring immense admiration and esteem within the football community.
Moreover, Joao Pedro also places great emphasis on his appearance, specifically his smile. He grasps the profound impact that a radiant smile can have on fostering positive off-field interactions and ultimately rendering him more approachable and charismatically appealing.
João Pedro's Dental Treatment
Intending to enhance his smile in mind, Joao Pedro opted for a teeth-bleaching treatment. Considered a general dental aesthetic procedure, it aims at eradicating stains and discolouration from the teeth themselves.
The employment of secure bleaching agents allows for successful lightening of tooth colouration throughout this process. Consequently, Joao Pedro's smile showcases greater luminosity, now leading to an improvement in both his overall physical appearance and personal confidence.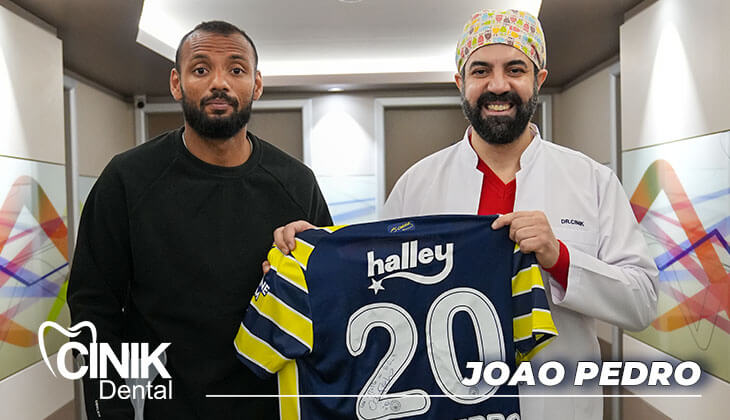 What is Teeth Whitening Treatment?
Among sought-after dental treatments, teeth bleaching prevails as an effective means to improve one's smile's aesthetic appeal. This process revolves around applying bleaching agents to lighten tooth colouration and eliminate stains or discolouration effectively.
Remarkably, this approach proves relatively straightforward and does not cause intrusive effects; hence it promises substantial enhancements in tooth brightness without complications. Conducted within dental clinics under expert professional guidance, individuals may anticipate astonishing outcomes as their smiles metamorphose from dreary visages into breathtaking radiance.
What are the Advantages of Tooth Whitening?
There are several advantages to tooth whitening. Most importantly, it has the ability to greatly enhance the look of your smile. Having a brighter smile can increase your self-confidence and make you feel more at ease in social settings.
Additionally, this treatment is both quick and painless, with minimal discomfort. You can personalize the procedure to meet your specific requirements and achieve your desired level of whiteness. Furthermore. When done by a professional. Teeth whitening is a safe and effective option.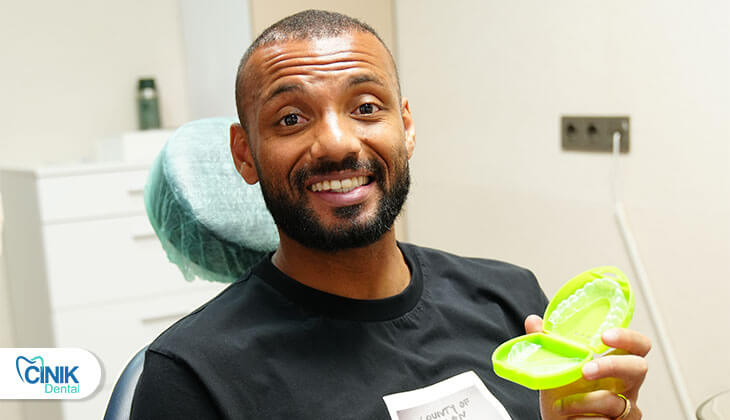 Is Tooth Whitening Permanent?
While teeth whitening has the potential for impressive transformations in appearance; however; maintaining this change should be understood as inconsistent as opposed to enduringly proficient! How successfully one experiences this extraordinary change is dependent on certain variables, inclusive of dietary choices, consistent oral health habits as well as maintaining healthy, consistent lifestyle regimens.
For instance, incorporating food and beverage essentials, including beverages such as coffee or red wine, can challenge the wholesome outcome found in this treatment; likewise, habits such as smoking have the potential to cause teeth discolouration over time. To ensure an elongated healthy enhancement it is advised to schedule a follow-up maintenance treatment.
Why did Joao Pedro choose DR. CINIK (Cinik Dental)?
Joao Pedro made the decision to select Dr Cinik and Cinik Dental for his teeth whitening treatment because of their renowned reputation for delivering top-notch dental care. Cinik Dental is well known for its modern facilities and skilled team of dental experts.
They provide a variety of dental aesthetic treatments, all executed with great precision and attentiveness to patient comfort. Joao Pedro was likely influenced by their dedication to ensuring patient satisfaction and their proven track record of successful treatments.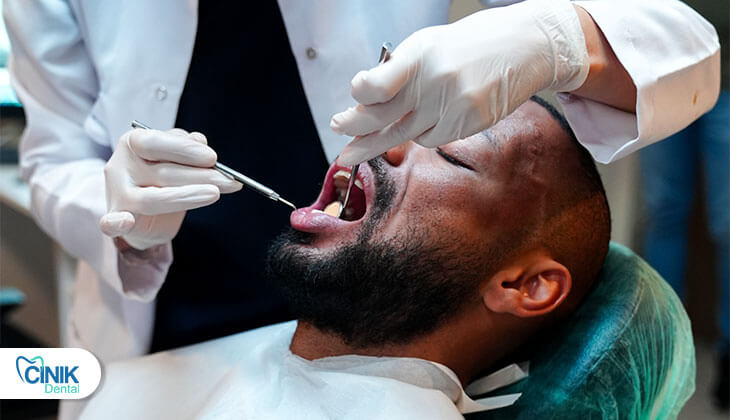 Teeth Whitening Cost and Cinik Dental Packages
You can find comprehensive dental care packages at Cinik Dental, including teeth whitening. These packages provide not only teeth whitening but additional services such as dental scaling, air flow therapy, polishing, and stain cleaning, along with oral care training techniques.
Moreover, there is an inclusion in the most favoured package where lip care with coconut oil along with panoramic X-ray images is provided. In terms of pricing strategies, Cinik Dental management teams ensure ease among patients in managing their expenses related to dentistry; this results in offering teeth bleaching cost strategies inclusive of all procedures needed by the client/patient's impact on customer's satisfaction positively as well as strengthens their loyalty towards Cinik Dental Services on the long term.
Furthermore, this engaging package offers tremendous convenience, specifically by providing VIP transfer and hotel accommodations ranging between 3-6 nights which becomes quite convenient for out-of-town patients. These all-inclusive packages are the prime reason Cinik Dental is a preferred choice for people like Joao Pedro and many others.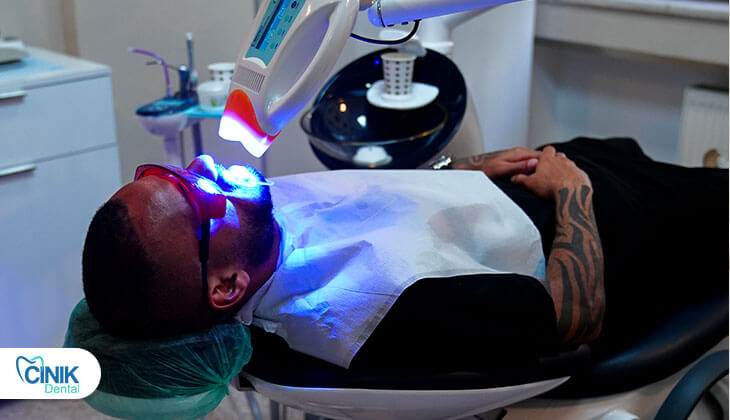 What are Popular Dental Aesthetic Treatments?
Aside from teeth whitening. There are some dental aesthetic treatments that are popular and can significantly improve the overall appearance of your smile. One such treatment is dental scaling, which effectively eliminates the buildup of plaque and tartar on your teeth. Additionally, airflow therapy is another option that involves utilizing a combination of air, sodium bicarbonate or glycine powder.
And a gentle stream of water to clean and polish your teeth. Lastly, polishing and stain cleaning can remove any superficial stains on your teeth. You are leaving them with a noticeable shine. Implementing these treatments in conjunction with regular oral hygiene practices can contribute to maintaining a smile that looks not only healthy but also attractive.
Conclusion
Joao Pedro's teeth bleaching choice at Cinik Dental demonstrates the significance of dental aesthetics in preserving a self-assured and radiant smile. Whether you are a football star or not, a sparkling and healthy smile can have a profound impact by receiving appropriate dental care and treatments. You, too, can attain a brilliant and dazzling smile.
Make an Appointment
Get better health and self-assurance from professional medical attention. Get started now by consulting with one of our experts.
João Pedro Dental Before & After
Witnessing Joao Pedro's smile transform after his visit to Cinik Dental for a teeth whitening treatment is genuinely astonishing. The undeniable brightness in his teeth has granted him newfound confidence, proving just how effective this treatment offered by the proficient team at Cinik Dental truly is. It clearly indicates that dental aesthetics hold significant power in enhancing one's overarching appearance and elevating their confidence.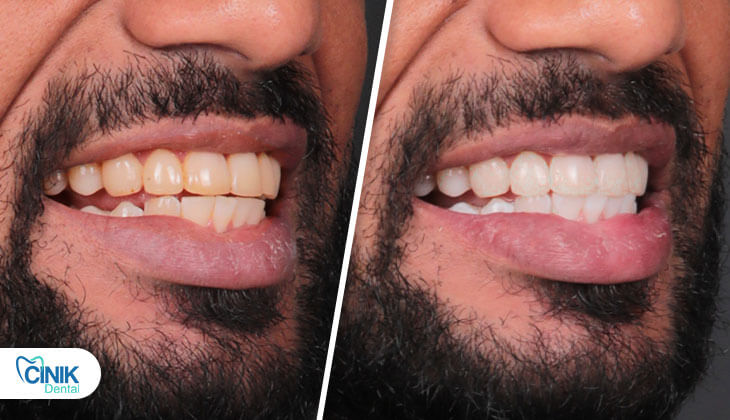 Dental
Professional teeth whitening typically takes between 30 minutes and one hour. The DR. CINIK Clinic's records are the best resource for determining João Pedro's treatment duration.
Patients are typically advised to avoid staining foods and beverages, such as coffee, tea, red wine, and certain berries. João Pedro was likely provided with such instructions and possibly even suggested oral care products to ensure the longevity of his whitening results.
The frequency of touch-ups varies depending on individual lifestyle habits, such as diet, smoking, and oral hygiene practices. If João Pedro follows the post-procedure guidelines diligently, he might enjoy the results for several years before considering a touch-up.
After teeth whitening, some patients might experience temporary sensitivity. The DR. CINIK Clinic would have informed João Pedro of this and other possible side effects, ensuring he was well-informed before the procedure.
Some patients may experience temporary sensitivity or minor discomfort following a teeth-whitening treatment. If João Pedro had shared such emotions, the DR. CINIK Clinic would have provided advice and suggestions to alleviate them.