Treatment
Zirconium Veneers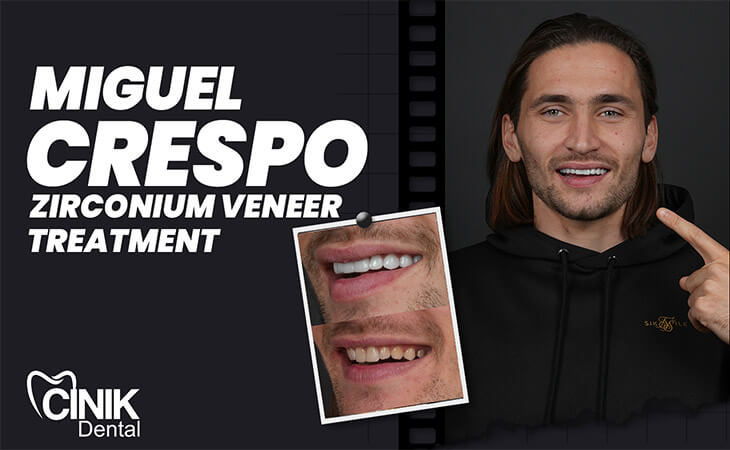 Miguel Crespo's Dental Journey
Miguel Crespo, a name cherished by soccer enthusiasts worldwide, has recently captured attention for an unprecedented decision. The renowned player opted for a zirconium veneer triggering curiosity in the field of dental aesthetics. Let us explore the reasons behind Crespo's choice and why he placed his trust in the expertise of Dr. Cinik at Cinik Dental.
Miguel Crespo, whose full name is Miguel Crespo da Silva. He is a highly skilled Portuguese professional footballer. He was born on 11 September 1996 in Lyon, France. Currently, he plays as a midfielder for the esteemed Turkish club Fenerbahçe and wears the number 27 jersey. Miguel Crespo embarked on his youth career in 2005 with Escola Luciano Sousa and later showcased his talent at Porto, Artur Rego, Barroselas, Feirense, and Neves.
His senior career began with Neves before he went on to play for Merelinense, Braga B, and Estoril. In 2021 Crespo made an exciting move to Fenerbahçe. During his first season at Fenerbahçe, under the guidance of manager Vítor Pereira, the team achieved an impressive runners up position. Continuing into his second year at the Şükrü Saracoğlu Stadium under Portuguese manager Jorge Jesus, Crespo solidified his position as a valuable asset to the squad.
Miguel Crespo's Dental Treatment
Miguel Crespo recently opted for a dental procedure involving zirconium veneers. It's crucial to note that this decision was not made hastily; rather, it was the result of Miguels' thoughtful contemplation and discussions with dental professionals. His primary objective was to enhance his smile while preserving the well-being and strength of his teeth.
The ultimate result? A radiant. The self-assured grin perfectly complements his vibrant persona. Given Miguel Crespo, zirconium has now piqued the curiosity of many individuals who are keen to learn more about the advantages and intricacies of this dental procedure.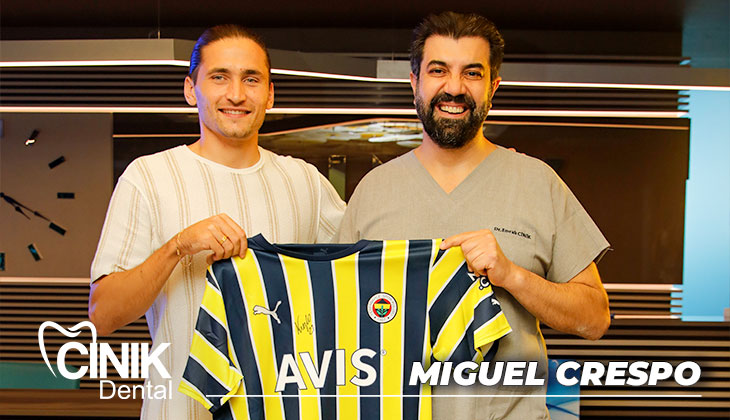 Zirconium Veneers: The Modern Solution for a Dazzling Smile
Utilizing zirconia as its core component, zirconium veneer represents one variant of dental crowns renowned for their resilience and long-lasting nature. With an emphasis on achieving an authentic look while withstanding wear and tear encounters, this form of restoration has garnered substantial favorability among patients seeking harmonious repair solutions resembling their natural dentition patterns.
The manufacturing process involves tailoring each individualized zirconium crown according to precise dimensions collected during thorough assessments of each patient's oral condition. Consequently, this approach enables not only impeccable fitness but also ensures an outcome that seamlessly integrates with pre-existing dentition.
Is Zirconium Tooth Veneer Permanent?
Recognizing that no dental restoration can claim absolute permanence. It is important to highlight the durability of zirconium veneers. Through diligent care and regular dental appointments, individuals can experience a prolonged enhancement of their smiles by choosing these veneers as a long-term solution.
It should be noted that sustaining zirconium crowns relies heavily on maintaining good oral hygiene practices. Incorporating routine brushing, flossing, and dental checkups into one's daily regimen is paramount in ensuring the endurance of these veneers.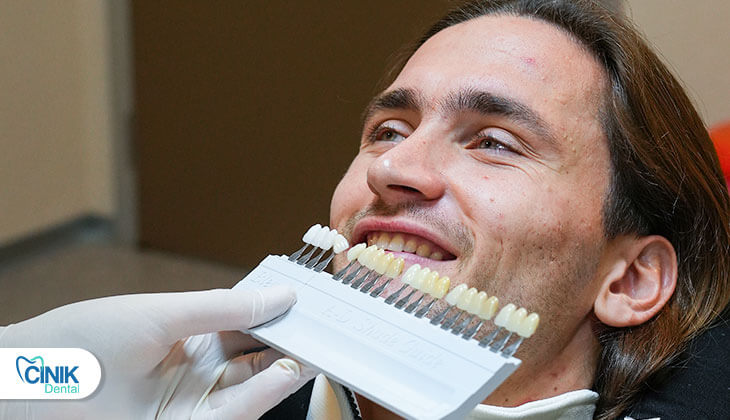 Why did Miguel Crespo prefer Dr Cinik?
When selecting where to undergo his zirconium veneer treatment. Miguel Crespo discerningly chose none other than Dr. Cinik due to his illustrious standing in the realm of dental aesthetics excellence. At the esteemed practice of Cinik Dental, Dr. Cinik and his discerning team offer an extensive selection of dental services with their unwavering commitment lying in ensuring patient comfort and satisfaction.
The meticulous expertise demonstrated by them, in conjunction with their wholehearted dedication to the well-being of their patients, made it unequivocally clear that they were the perfect choice to undertake Miguel Crespo's zirconium dental transformation. Central to Dr. Ciniks' approach to dental care is a keen understanding of individual patient requirements, which he employs in order to customize treatment plans accordingly. It is indeed this patient-centric doctrine that unequivocally distinguishes him within the field of dental aesthetics.
The Price of a Perfect Smile: Evaluating Zirconium Veneer Cost
Cinik Dental offers an excellent option for individuals who desire a comprehensive smile makeover. They have curated packages specifically designed for multiple zirconium veneers or crowns. Among their various options, the most sought-after package offers 10 crowns/veneers for €3610 with an additional zirconium veneer price of €270.
In addition to these dental procedures, this package also includes a range of valuable perks such as VIP transfer, 6 nights of accommodation, examination and consultation services, panoramic X-ray analysis, medication provision, and a post-operation check.
Those seeking a more extensive dental restoration can opt for the package with 20 crowns/veneers available at €6110, with each extra zirconium veneer price at €260. Not only do these packages prove to be cost-effective solutions, but they also yield remarkable improvements in both dental appearance and overall health.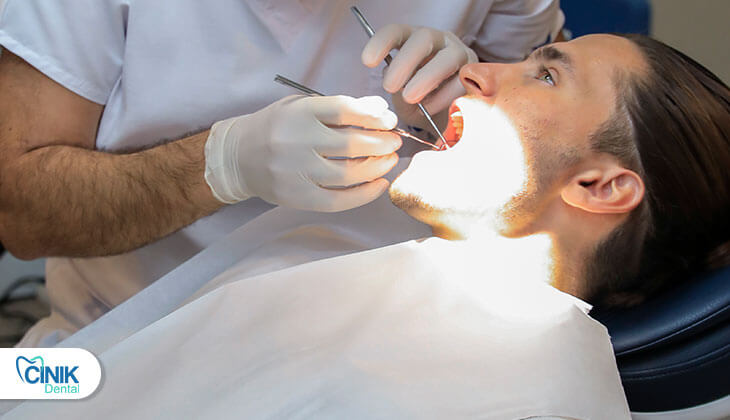 Why Choose Zirconium Dental Veneers? The Benefits Explained
Zirconium dental veneers are highly favoured by individuals seeking to enhance their smiles for numerous reasons. Allow me to provide a concise overview of the main benefits associated with this choice.
Sturdiness
Undoubtedly the robustness of zirconium veneers is truly noteworthy. These veneers are thoughtfully engineered to withstand regular wear and tear, effectively managing the pressure inflicted during eating and biting. This exceptional resilience renders them a perfect choice for individuals in search of a durable resolution for their dental needs.
Aesthetic Appeal
Zirconium crowns have garnered acclaim due to their exceptional ability to replicate the appearance of natural teeth flawlessly by harmoniously blending in with your existing teeth. They create a smile that exudes genuine confidence. The understated integration of these veneers guarantees that they enhance your smile discreetly without drawing unwarranted attention to any dental work involved.
Biocompatible Nature
Recognized for their outstanding biocompatibility features that mitigate allergic reactions. Zirconium veneers stand out as a reliable option embraced by many individuals. This suitability extends to people with delicate teeth or gums who can confidently choose these veneers without worry. Additionally, these remarkable veneers' ability to provide unmatched compatibility ensures utmost comfort while minimizing any likelihood of discomfort or irritation.
Conclusion
Miguel Crespo's choice to receive zirconium veneer treatment is a shining example of how dental aesthetics have progressed by placing his trust in Dr Cinik and his knowledgeable team at Cinik Dental. Crespo highlights the significance of selecting a reliable and seasoned dental expert.
Whether you are a celebrated soccer player like Crespo or an individual desiring to improve your smile, zirconium veneers provide a long-lasting solution that appears authentic. It is important to remember that exuding self-assurance through a radiant smile never goes out of fashion.
Make an Appointment
Get better health and self-assurance from professional medical attention. Get started now by consulting with one of our experts.
Miguel Crespo Dental Before & After
The transformation of Miguel Crespos' smile with zirconium veneers is truly remarkable. The before and after pictures clearly display the remarkable improvement in his appearance, highlighting the effectiveness of zirconium veneers in enhancing one's smile.
Not only does his new smile elevate his physical appearance. But it also provides a substantial boost to his confidence. This illustrates that a beautiful smile is more than just an aesthetic enhancement; it profoundly impacts self-esteem and overall well-being.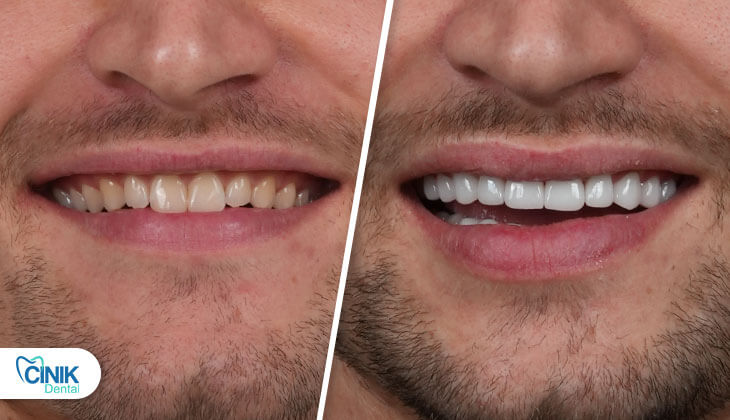 Miguel Crespo Dental FAQs
Dental
Typically, the entire process consists of several appointments spaced out over several days to a couple of weeks. This includes the consultation, tooth preparation, and veneer application. The precise timeline for Miguel Crespo's dental care may have been tailored to his specific requirements.
Although zirconium veneers are designed to be durable, it is advised to care for them similarly to natural teeth. This involves regular brushing, flossing, and routine dental check-ups. The DR. CINIK Clinic would have provided any particular care instructions for Miguel Crespo.
Patients are typically instructed on dietary precautions to protect newly placed veneers from any potential harm. The DR. CINIK Clinic would have provided Miguel Crespo with specific maintenance instructions to prolong the life of his new smile.
Although Miguel's reasons are private, many individuals prefer zirconium veneers due to their durability, transparency, and natural appearance. Their ability to replicate the light-reflecting characteristics of natural teeth makes them a popular option.
After veneer placement, avoiding eating tough foods directly with the veneers is generally recommended for some time. A non-abrasive toothpaste and a soft-bristled toothbrush are typically advised for oral hygiene products. DR. CINIK Clinic would have ensured that Miguel Crespo received thorough post-procedure care instructions.