Method
DHI + Sapphire FUE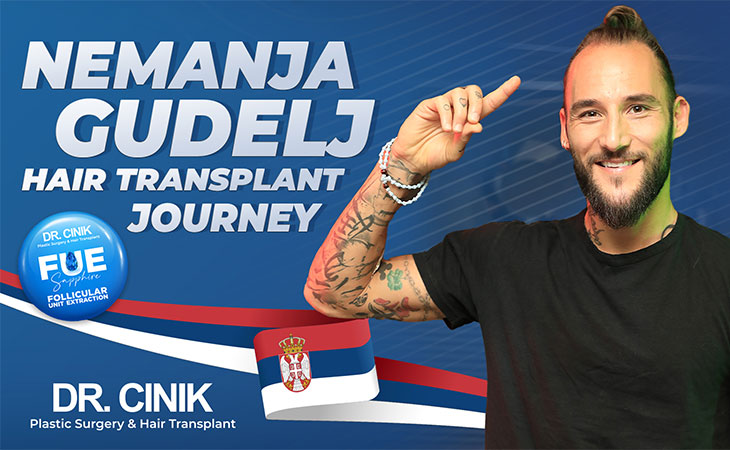 Nemanja Gudelj's Hair Transplant Journey
Nemanja Gudelj is a talented football player. Has gained a reputation for his exceptional abilities on the field. However, he also showcased strategic thinking in his personal life by opting for a hair transplant to tackle his hair loss issue.
His choice of the surgeon was none other than the renowned Dr. Cinik. But what led Gudelj to this decision? Why did he choose Dr. Cinik? Let's explore Gudelj's hair transplant journey and understand why many famous are choosing Dr Cinik for celebrities hair transplant needs.
Nemanja Gudelj is a highly accomplished Serbian professional footballer. Has made impressive contributions to prominent clubs such as Ajax, Guangzhou Evergrande, and Sevilla.
Renowned for his remarkable agility and precision on the field, Gudelj has firmly established himself in the football world. Nevertheless. Like numerous individuals. Gudelj encountered the obstacle of hair loss. Undeterred by this challenge, he bravely confronted it through a hair transplant.
Nemanja Gudelj's Hair Transplant Operation
Gudelj underwent a combined DHI and Sapphire FUE hair transplant, with 3500 grafts implanted. The technique in question utilizes a sapphire blade to make incisions on the scalp delicately. These incisions serve as the ideal spots for placing hair grafts.
And the sapphire blade's remarkable precision guarantees these grafts' accurate positioning. They are resulting in a more authentic appearance. In addition. Opting for a sapphire blade contributes to a quicker healing process. They minimize the recovery time after the procedure, enabling patients such as Gudelj to resume their normal activities swiftly.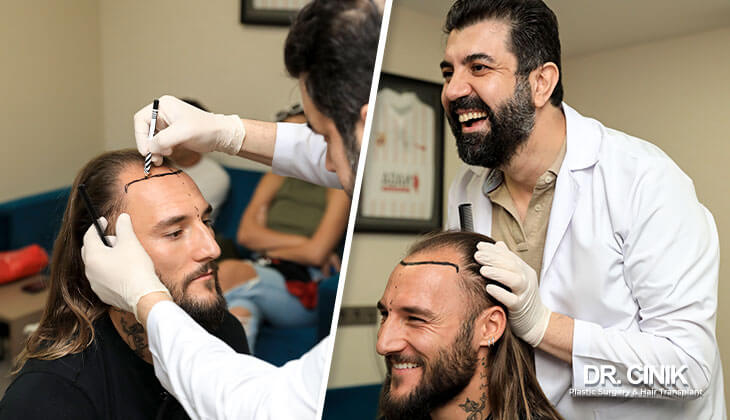 Demystifying DHI Hair Transplantation: Candidates and Application Insights
Direct Hair Implantation (DHI) dhi hair transplant is an advanced technique for hair transplantation that provides enhanced precision and efficiency in implanting hair follicles.
This cutting-edge method employs a specialized instrument called the Choi Implanter Pen, enabling the surgeon to meticulously control the depth, direction, and angle at which the hair follicles are implanted. Consequently, this approach delivers a thicker and more authentic-looking hairline. DHI is suitable for individuals experiencing significant hair loss, as it allows for high-density graft placement in Nemanja Gudelj hair transplant.
Selecting the Ideal Shampoo for After Hair Transplantation
Postoperative care is crucial for a successful hair transplant. Dr Cinik recommends specific shampoos available on their online shop, drcinikshop.com. These products have been specifically formulated to nourish the scalp and effectively stimulate healthy hair growth, guaranteeing optimal results after a hair transplant procedure.
Essential Vitamins and Biotin for Post-Hair Transplantation
It is crucial to nourish your hair after a hair transplant. This involves incorporating the right vitamins and biotins into your routine to foster healthy growth and sustain the well-being of your new hair. Dr Cinik's online store provides an array of products meticulously crafted for this very purpose.
Which Hair Serum Should Be Used After Hair Transplantation?
After undergoing a hair transplant procedure, providing your scalp and newly transplanted hair with the necessary care and nourishment is crucial. One effective method to achieve this is using hair serums, which can significantly aid healing. You can find various hair care products at drcinikshop.com. Dr Cinik's online store includes specialized hair serums formulated explicitly for post-transplant care.
One highly recommended product is the CINIK Plus Hair Vitamins and CINIK Advanced Hair Care Series.
These products have been developed through meticulous scientific research to prevent hair loss and enhance hair health. They are manufactured in compliance with ISO and GMP standards, guaranteeing their quality and efficacy.
Nemanja Gudelj has been seen promoting the products he used during his post-transplant care. His endorsement of these products underscores their effectiveness and the trust Dr. Cinik's patients place in them.
Why Opt for Hair Transplantation at Dr. Cinik's Clinic?
Dr. Cinik's in Turkey has become a preferred destination for celebrities like Gudelj seeking hair transplant solutions. The clinic offers a VIP service, ensuring a comfortable and personalized experience. With a team of translators on hand, language barriers are non-existent.
The comprehensive packages include accommodation, airport transfers, and postoperative care products, making the entire process seamless for international clients for hair transplants in Turkey. The clinic demonstrates its dedication to delivering top-notch service through its meticulousness and personalized approach towards every patient.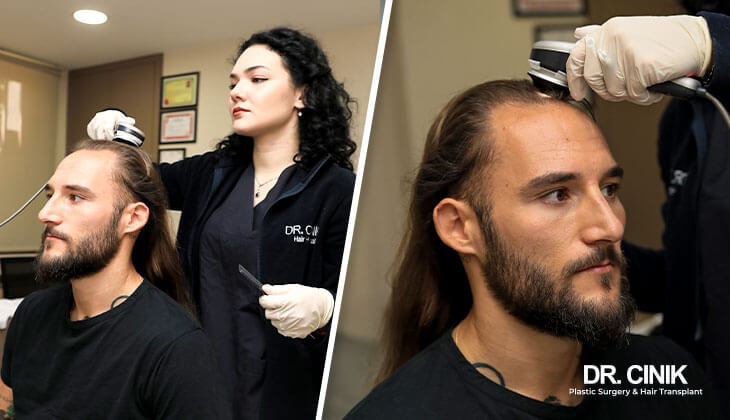 How Can I Get a Hair Transplant Like Nemanja Gudelj?
If Gudelj's transformation inspires you and you want to undergo a similar procedure, the first step is a consultation with Dr. Cinik'steam. At their disposal is an evaluative process where professionals appraise one's hair loss experience, followed by exploring potential remedies catered exclusively for their condition.
Essential considerations comprise elements like an individual's unique scalp characteristics and pertinent aspects such as their medical history and their particular issue's severity.
This way, exemplified by Gudelj's story, is an outcome-oriented commitment wherein technical measures are formulated accordingly, encompassing every pertinent factor: one's distinct necessities being at the forefront of this meticulous undertaking.
Things to Keep in Mind When Undergoing Hair Transplantation
When considering a hair transplant, it's essential to research;
the clinic
the surgeon's experience
and the technique used.
Ensuring effective postoperative care holds equal importance in achieving a successful result. Moreover, carefully considering the financial implications of undergoing the procedure and evaluating its compatibility with your budget cannot be overstated. Remember that opting for a hair transplant entails making a meaningful investment towards enhancing your external appearance and bolstering your inner self-assurance. Hence it becomes pivotal to arm yourself with knowledge before arriving at an enlightened decision.
Make an Appointment
Get better health and self-assurance from professional medical attention. Get started now by consulting with one of our experts.
Nemanja Gudelj Hair Transplant Before & After
The transformation in Gudelj's appearance post-transplant has been remarkable. His physical change from Dr Cinik's hair transplant procedures is striking- notably his denser hairline, significantly improving his overall aesthetics.
Yet what makes this hair transplant in Turkey even more remarkable is its far-reaching impact on his self-assurance, providing undeniable evidence regarding the efficacy of Dr.Ciniks' interventions. This encapsulates how undergoing such treatments extends beyond cosmetic alterations, offering individuals newfound confidence and an enhanced quality of life that transcends superficial changes alone.
Nemanja Gudelj Hair Transplant FAQs
Hair Transplant
While the primary objective of the transplant was cosmetic, the transformation has profoundly impacted Gudelj's self-esteem and confidence. Professionally, he continues to excel on the football field, and numerous fans and peers have praised his new appearance.
Although the initial recovery period following a hair transplant is relatively brief, it typically takes several months for the transplanted hair to grow and settle. Nemanja Gudelj began exhibiting visible results a few months after surgery and reached his optimal appearance roughly one year later.
Nemanja Gudelj chose Dr. Cinik for his hair transplant due to the clinic's reputation for high-quality service, advanced hair transplant techniques, and comprehensive care packages that include postoperative care products, accommodation, and airport transfers for hair transplants in Turkey.
The DHI + Sapphire FUE technique combines two advanced hair transplant methods. DHI (Direct Hair Implantation) uses a Choi Implanter Pen for precise control over the implanted hair follicle's depth, direction, and angle. Sapphire FUE (Follicular Unit Extraction) uses a sapphire blade to create incisions for the hair grafts, promoting a faster healing process and a more natural-looking result.
Nemanja Gudelj's hair transplant resulted in a fuller hairline that enhanced his appearance and boosted his confidence. His transformation serves as a powerful example of the effectiveness of Dr. Cinik's procedures.