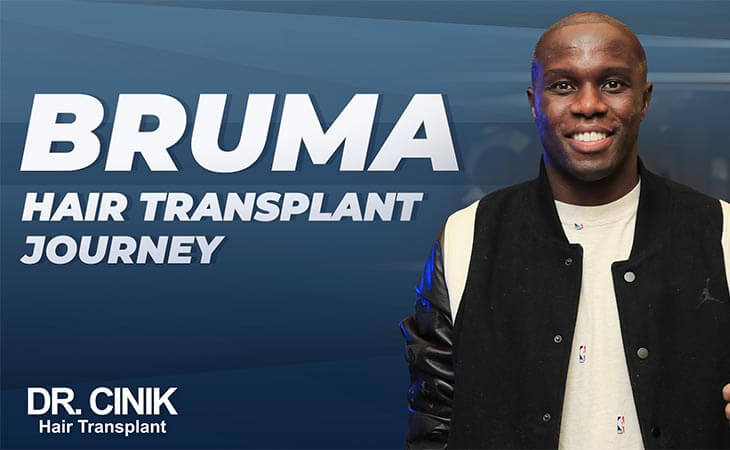 Bruma's Hair Transplant Journey
Get ready to witness a hair transformation that has overtaken the world. Bruma, the football superstar known for his skill and style, embarked on a journey to restore his receding hairline. Enter Dr. Cinik Shop, the leading hair transplant destination in Turkey. With unrivaled expertise and a commitment to natural-looking results, our clinic has transformed Bruma's appearance and boosted his confidence to heights. Brace yourself as we unveil the secrets behind Bruma's stunning hair transplant, revealing how our Clinic has redefined the art of hair restoration.
Bruma is a well-known Portuguese professional footballer who has made a name among Europe's finest clubs. He has played for Sporting CP, RB Leipzig, PSV Eindhoven, Galatasaray, and, most recently, Fenerbahçe.
Bruma's explosive pace, incredible dribbling ability, and excellent ball control have cemented his place in football history. Off the field, though, Bruma, like many of his teammates, faced the personal struggle of hair loss. He boldly elected to have a hair transplant without avoiding the subject, demonstrating the same drive and confidence that he frequently displays on the field.
Bruma's Hair Transplant Operation
Like many individuals facing hair loss, Bruma sought the perfect solution to restore his receding hairline. After extensive research and consultations, he found solace in the exceptional services provided by the clinic. The clinic's hair transplantation expertise and commitment to delivering natural-looking results made it an obvious choice for Bruma's hair restoration journey.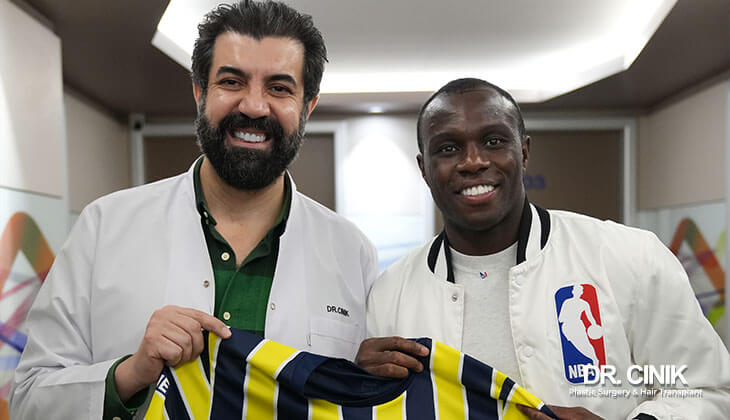 Dr. Emrah Cinik: The Mastermind behind Bruma's Hair Restoration
At the heart of Bruma's hair transformation is the expertise of Dr. Emrah Cinik, a world-renowned hair transplant specialist and the founder of Cinik Clinic. With ages of experience and a deep understanding of the intricacies of hair transplantation, he has successfully restored hairlines for numerous high-profile clients. His meticulous approach and artistic precision have made him a trusted name in the industry.
Personalized Approach: Tailoring the Hair Transplant Experience to Bruma
Bruma chose this clinic because of its personalized approach to hair transplants. Knowing that each individual has unique needs and expectations, the clinic customizes treatment plans accordingly. During Bruma's consultation, our team carefully assessed his hair loss pattern, facial features, and desired outcome to create a tailored plan that would achieve natural-looking results specific to him.
Natural Results: How Cinik Clinic Revolutionized Bruma's Hairline
Our commitment to delivering natural results has been a game-changer for individuals like Bruma. Through advanced techniques such as Follicular Unit Extraction (FUE), the skilled team at the clinic meticulously transplanted individual hair follicles, ensuring a seamless and undetectable outcome. The precision and attention to detail in recreating Bruma's hairline have resulted in a completely natural transformation, enhancing his appearance and confidence.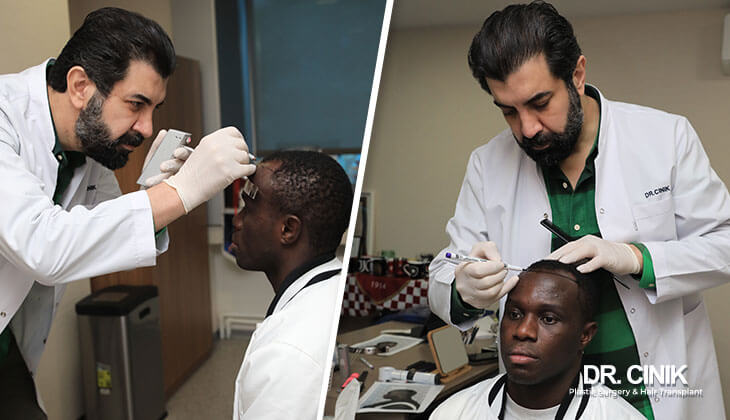 Beyond Hair Transplants: The Cinik Clinic Experience
We go above and beyond to provide its patients with an exceptional experience. The clinic prioritizes patient comfort and satisfaction from the initial consultation to post-operative care. The warm and welcoming environment and outstanding customer service ensure that every individual feels supported throughout their hair restoration journey.
The Premier Destination for Hair Transplants in Turkey
Regarding hair transplants, Cinik Clinic stands out as the premier destination in Turkey. Renowned for its excellence in the field, the clinic has attracted countless individuals seeking transformative hair transplant experiences. With state-of-the-art facilities, cutting-edge techniques, and a team of highly skilled professionals, it has earned a reputation for delivering exceptional results.
Conclusion
Bruma's hair transformation journey at Cinik Clinic is nothing short of extraordinary. The expertise of the staff, cutting-edge techniques, and personalized care, Bruma has emerged with a stunning and natural-looking hairline that has left the world in awe.
Their commitment to excellence and ability to deliver remarkable results have solidified its position as a premier destination for hair transplants in Turkey. Beyond restoring hair, they have restored Bruma's confidence, empowering him to shine on and off the football field.
Bruma's story serves as an inspiration to individuals facing hair loss, reminding them that there are effective solutions available. Through our expertise and innovation, dreams can become a reality, and self-assurance can be reignited.
As Bruma continues to dazzle fans with his skills, his remarkable hair transformation is a testament to our transformative power. They have not only given him a new look but have also given him the confidence to embrace his full potential.
Whether you're a football enthusiast or considering a hair transplant, our exceptional results and personalized approach make them the go-to destination for hair restoration. Experience the life-changing transformations that we offer at our clinic, and unlock a new level of confidence and self-assurance.
Embrace the possibilities and embark on your transformative journey with Cinik Clinic, where dreams become a reality, and the path to a renewed self begins.
Make an Appointment
Get better health and self-assurance from professional medical attention. Get started now by consulting with one of our experts.
Bruma Hair Transplant Before & After
The transformation in Bruma's appearance since his transplant has been excellent. The visible benefits of Dr. Cinik's hair transplant treatments are striking, particularly the fuller, revitalized hairline that significantly improves his appearance.
What truly demonstrates the success of this hair transplant in Turkey is the noticeable increase in Bruma's self-confidence. It is unmistakable evidence of Dr. Cinik's skill. This metamorphosis emphasizes that such medical operations are about more than merely cosmetic enhancement. They are essential in improving an individual's self-esteem and overall well-being, demonstrating that the impacts transcend beyond superficial improvements.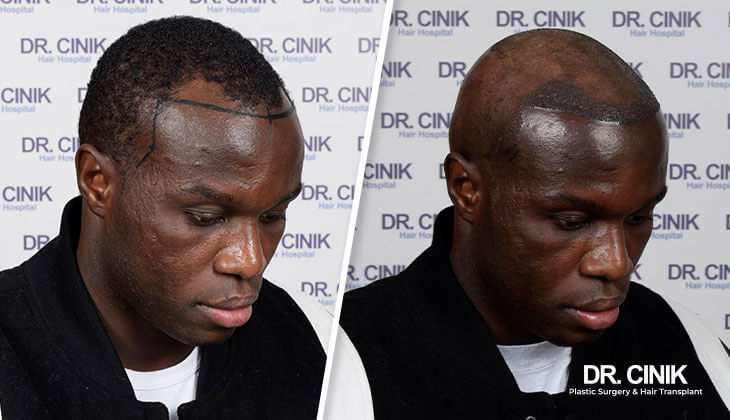 Bruma Hair Transplant FAQs
Hair Transplant
Dr. Cinik, one of the top authorities in the field, was entrusted with Bruma's hair restoration. Dr. Cinik, whose reputation precedes him, operates out of Turkey, a country renowned worldwide for its innovative and high-quality hair transplant procedures. Dr. Cinik has catered to various celebrities and athletes using cutting-edge techniques and technologies over the years. His vast experience and devoted team ensure that patients like Bruma receive the highest quality treatment, producing natural and long-lasting results. Bruma's remarkable post-transplant recovery exemplifies Dr. Cinik's unparalleled expertise.
Hair transplant procedures are purely cosmetic and do not affect a person's physical abilities. Bruma returned to the field with a renewed sense of self-assurance and continued to deliver exceptional performances.
In general, hair transplants are intended to produce permanent results. The transplanted hair behaves and grows like natural hair so that Bruma can anticipate permanent results with appropriate maintenance.
Although recovery times can differ, most patients are advised to refrain from strenuous activities for a brief period after surgery. Before returning to the field, Bruma took a short break to ensure optimal recovery.
The success of a hair transplant is heavily dependent on post-operative care. Bruma diligently adhered to the regimen prescribed by Dr. Cinik. He utilized DR. CINIK Shop products, specifically CINIK Plus multivitamin, biotin, and saw palmetto supplements. These products support the healing process and promote healthier and stronger hair growth, ensuring that his transplant will produce the best possible results.