Treatment
Laser Hair Therapy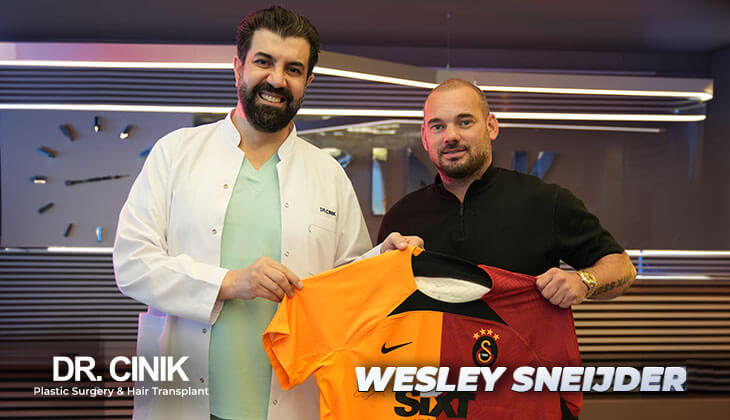 Wesley Sneijder's Hair Transformation Journey
When it comes to hair restoration, DR. CINIK Clinic has established itself as a pioneer in the field, delivering groundbreaking solutions that have transformed the lives of countless individuals. One such success story is the esteemed Wesley Sneijder, who sought the expertise of Cinik Clinic and underwent the revolutionary fractional laser hair treatment. This transformative procedure revitalized Sneijder's hair, boosted his confidence, and renewed his sense of self-assurance. This article delves into Sneijder's remarkable journey and explores the captivating power of fractional laser hair treatment at DR. CINIK Clinic.
Wesley Sneijder is a well-known Dutch professional footballer who has played for some of Europe's top clubs. Throughout his career, he has worn the jerseys of Ajax, Real Madrid, Inter Milan, and Galatasaray, among others.
Sneijder's exceptional vision, pinpoint passing, and ability to score crucial goals have cemented his place as one of the best midfielders of his generation. Like many athletes, Sneijder faced the personal challenge of hair loss outside of the roar of the stadiums. He chose to have a hair transplant with characteristic tenacity. His decision to confront the issue head-on reflects the same spirit and determination he demonstrates on the field.
Wesley Sneijder's Hair Treatment
Fractional laser hair treatment has emerged as a game-changer for individuals like Wesley Sneijder, who desire to stimulate hair growth and achieve a fuller, more vibrant mane. This innovative procedure utilizes low-intensity laser technology, effectively targeting the hair follicles, promoting cellular activity, and rejuvenating the scalp. At DR. CINIK Clinic, their skilled experts carefully administer the treatment to ensure optimal results, delivering a customized approach tailored to Sneijder's unique needs.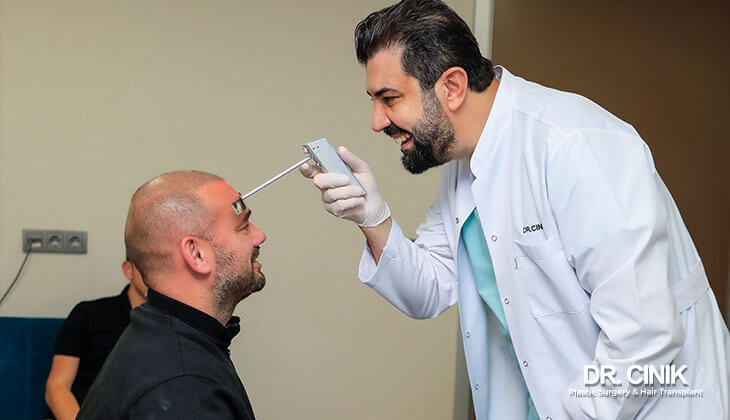 DR. CINIK Clinic's Expertise: Where Success Stories Begin
DR. CINIK Clinic, renowned for its expertise in hair restoration, has earned a stellar reputation for delivering exceptional results. With a team of experienced professionals, cutting-edge technology, and a commitment to personalized care, Cinik Clinic provides a nurturing environment for individuals seeking hair restoration treatments. Wesley Sneijder's decision to choose Cinik Clinic for his fractional laser hair treatment speaks volumes about the clinic's ability to deliver transformative outcomes.
Rejuvenation and Confidence: Sneijder's Remarkable Transformation
Following his fractional laser hair treatment at DR. CINIK Clinic, Wesley Sneijder experienced a remarkable transformation that went beyond his hair. Not only did the therapy stimulate hair growth, but it also revitalized his scalp and strengthened his hair shaft. As a result, Sneijder regained his youthful appearance and a newfound confidence that radiated on and off the field. His positive response to the treatment is a testament to the efficacy of fractional laser hair treatment at Cinik Clinic.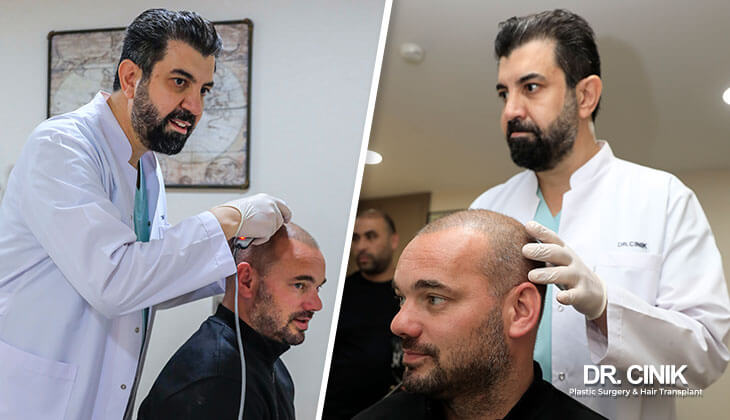 The Cinik Clinic Difference: Personalized Care and Non-Invasive Technology
Cinik Clinic sets itself apart through its dedication to providing personalized care and utilizing non-invasive technology. The fractional laser hair treatment offered at the clinic is performed with precision and expertise, ensuring Sneijder's comfort throughout the process. The treatment sessions, typically 20 minutes, are painless and pose no risk to the skin or hair. With Cinik Clinic's commitment to maintaining the endocrine balance, Sneijder's experience was safe and effective.
What are the Benefits & Advantages of Laser Hair Treatment?
Revive Your Hair: Experience Remarkable Regrowth Witness the revival of your hair as Fractional Laser Hair Treatment stimulates hair follicles, promoting natural and impressive regrowth. Say goodbye to thinning hair and welcome a fuller, more voluminous mane that exudes confidence and vitality.
Boost Your Confidence: Embrace a New You Restore your self-assurance and embrace a new chapter of your life with Fractional Laser Hair Treatment. By regaining your natural hair fullness and density, you'll feel a renewed sense of confidence that shines through in every aspect of your life, from personal interactions to professional endeavors.
Non-Invasive Marvel: Embrace the Comfort and Convenience Experience the benefits of a non-invasive hair restoration procedure with Fractional Laser Hair Treatment. No incisions or stitches are required. Enjoy a painless, comfortable treatment that fits seamlessly into your schedule, allowing you to resume your daily activities immediately afterward.
Say Goodbye to Hair Loss: Minimize Shedding and Thinning Bid farewell to the frustrations of hair loss as Fractional Laser Hair Treatment reduces shedding and minimizes thinning. By promoting cellular activity and strengthening hair shafts, this advanced treatment helps you maintain your existing hair and prevent further loss.
Personalized Treatment Plans
At Cinik Clinic, we understand that each individual is unique. Fractional Laser Hair Treatment is customized to suit your specific needs and goals. Benefit from a personalized treatment plan to address your hair restoration requirements, ensuring the best possible results.
Safe and Endocrine Balance: Prioritizing Your Well-being Rest assured that your safety and well-being are paramount at Cinik Clinic. Fractional Laser Hair Treatment is designed to maintain the endocrine balance, ensuring your hormonal system remains unaffected. Experience peace of mind as you undergo this transformative procedure.
Quick and Convenient: Time-Efficient Sessions Don't let time hinder achieving your dream hair. Fractional Laser Hair Treatment sessions typically last around 20 minutes, making them fast and convenient—experience effective results without compromising your busy schedule.
Long-lasting Results: Enjoy the Benefits for Years to Come. Fractional Laser Hair Treatment offers more than just temporary fixes. Experience long-lasting results that stand the test of time. Regain your hair's natural fullness and density, allowing you to enjoy the benefits of your transformed appearance for years to come.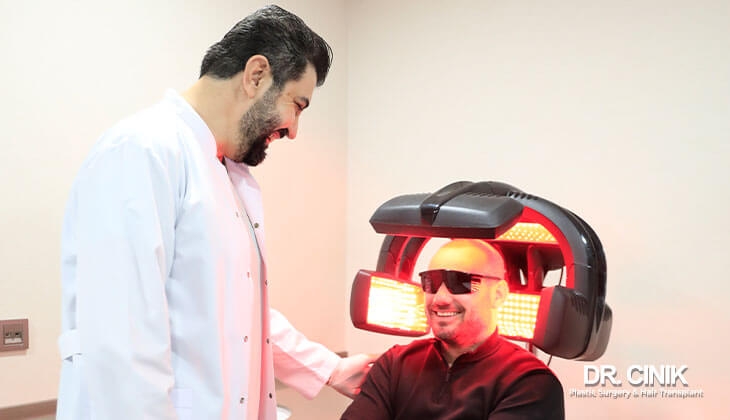 The Role of PRP Therapy in Sneijder's Hair Transplant
Sneijder opted for Platelet-Rich Plasma (PRP) therapy as part of his comprehensive hair restoration treatment. This innovative procedure involves the extraction of a patient's blood, which is then processed to separate the platelet-rich plasma. The concentrated plasma is then injected into the scalp, promoting hair growth and improving the overall health of existing hair follicles.
Including PRP therapy in Sneijder's treatment plan demonstrates the clinic's commitment to employing advanced techniques for optimal results. Combining PRP therapy with hair transplant procedures enhances the potential for successful outcomes and more natural-looking results.
Why Cinik Clinic?
DR. CINIK Clinic has emerged as a leading institution in hair transplantation. Under the guidance of Dr. Emrah Cinik, a distinguished hair transplant specialist, the clinic has gained international recognition for its expertise and state-of-the-art facilities.
Through advanced techniques like Follicular Unit Extraction (FUE) and Direct Hair Implantation (DHI), Cinik Clinic ensures seamless and successful hair transplant procedures. Dr. Cinik's team of experienced specialists provides personalized care, tailoring treatment plans to meet each patient's unique needs.
Conclusion
Wesley Sneijder's incredible transformation through fractional laser hair treatment at DR. CINIK Clinic showcases the power and effectiveness of this innovative procedure. As a testament to Cinik Clinic's expertise, Sneijder's positive response stands as a testament to the clinic's ability to deliver outstanding results. Combining personalized care, non-invasive technology, and a commitment to excellence, Cinik Clinic continues to change lives, helping individuals like Wesley Sneijder regain their confidence and rediscover their vibrant selves through remarkable hair restoration treatments.
Make an Appointment
Get better health and self-assurance from professional medical attention. Get started now by consulting with one of our experts.
Wesley Sneijder Laser Hair Therapy
Wesley Sneijder's appearance has improved dramatically due to his laser hair therapy. The visible effects of this non-surgical procedure are visual, particularly the thicker, more lustrous hair that has improved his overall appearance.
Beyond the physical changes, the most significant indicator of this therapy's success is the noticeable increase in Sneijder's self-confidence. It demonstrates the effectiveness of laser hair loss treatments. This transformation indicates that such interventions are for more than show. They are essential in improving an individual's self-esteem and overall mental well-being, demonstrating that the benefits extend beyond superficial enhancements.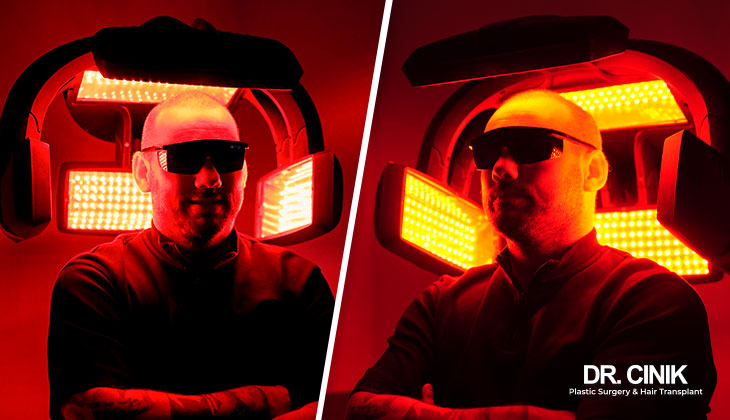 Wesley Sneijder Hair Treatment FAQs
Hair Transplant
Sneijder has been open about his struggle with androgenetic alopecia, also known as male pattern baldness. Both genetic and hormonal factors bring on this type of hair loss.
Since undergoing hair laser therapy, Sneijder's hair growth has significantly improved, according to his account. He reports that his hair has become thicker and fuller, and he is no longer losing as much hair as he once did.
Sneijder chose hair laser therapy at DR. CINIK Clinic because it is a non-invasive, non-surgical treatment with a high success rate. He was also impressed by the treatment outcomes he observed in other patients.
Wesley Sneijder chose the DR. CINIK Clinic to treat his hair loss due to the clinic's reputation, technology, and personalized care.
The clinic has an extensive history of hair transplant and hair restoration success. It employs advanced laser technology that is believed to be more effective than conventional laser therapy for hair loss. And it takes time to comprehend each patient's unique needs and objectives.
This combination of factors persuaded Sneijder that the DR. CINIK Clinic was the appropriate location for his hair loss treatment.
Laser hair therapy is noninvasive and usually has minimal to no side effects. Wesley Sneijder's post-treatment phase was uncomplicated and devoid of significant downtime, allowing him to resume his regular activities quickly.