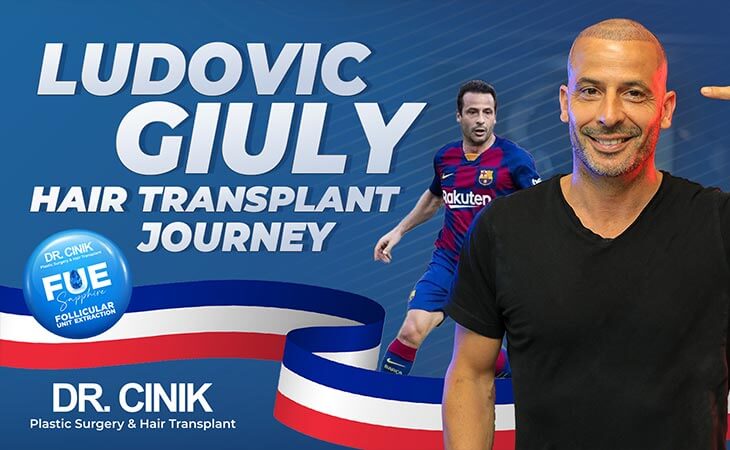 Ludovic Giuly's Hair Transplant Journey
Football is a sport that encompasses both strategy and skill in equal measure. For star footballer Ludovic Giuly, this strategy extended off the field when he decided to tackle his hair loss with a hair transplant. His choice of the surgeon? The renowned Dr. Cinik. But what led Giuly to this decision? Why did he choose Dr. Cinik hair transplant? Let's delve into Giuly's hair transplant journey and explore why many famous footballers choose Dr. Cinik for their hair restoration needs.
Ludovic Giuly is a renowned name among football enthusiasts across the globe. This French professional footballer acknowledged for his remarkable speed and skill, has made noteworthy contributions to distinguished clubs such as AS Monaco, FC Barcelona, and Paris Saint Germain.
Although he has bid farewell to his professional football career, Giuly remains engaged in the sport by imparting his invaluable knowledge and unwavering enthusiasm to aspiring young footballers. However, like many men, Giuly faced the challenge of hair loss. Not one to back down from a challenge, he decided to address this issue head-on with a celebrities hair transplant.
Ludovic Giuly's Hair Transplant Operation
Giuly underwent a hair transplant in Turkey known as Follicular Unit Extraction (FUE) procedure, during which 3450 grafts were skillfully implanted. The FUE technique involves meticulously removing individual hair follicles from the donor area.
It is typically located at the back of the head. And then carefully transplanting them into the areas experiencing hair loss. The FUE method is known for its precision and natural-looking results. It's also minimally invasive, meaning the patient has a shorter recovery time.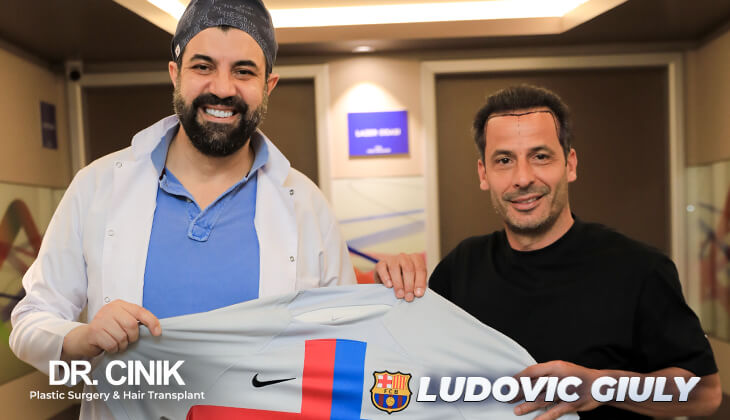 Post-Hair Transplant Shampoo Selection: Choosing the Right Product
Postoperative care is crucial for a successful hair transplant in Turkey. Dr. Cinik recommends specific shampoos available on their online shop, drcinikshop.com. These carefully formulated products aim to nourish the scalp and foster excellent hair growth, guaranteeing optimal outcomes for the transplant procedure.
After Hair Transplantation: Harnessing the Power of Vitamins and Biotins
After a hair transplant, nourishing your hair with the right vitamins and biotins is crucial. This helps promote healthy growth and maintains the overall health of your newly transplanted hair. To cater to this specific need, Dr. Ciniks' online shop provides a wide array of products designed precisely for this purpose.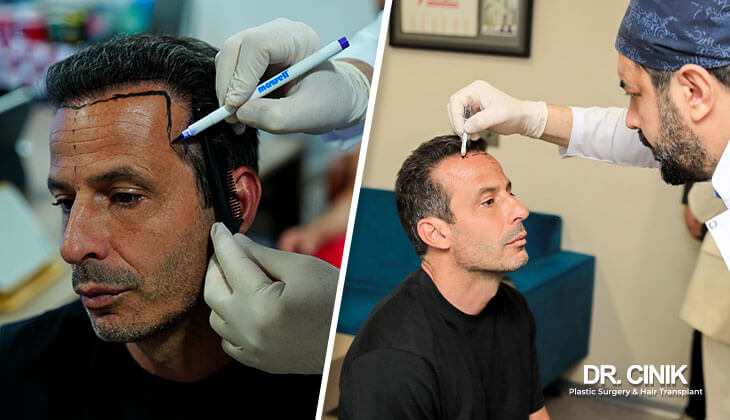 CINIK Plus Hair Vitamins
These vitamins are developed through dedicated scientific research designed to prevent hair loss and promote health. They are produced according to ISO and GMP standards, ensuring their quality and effectiveness.
CINIK Advanced Hair Care Series
This series includes a range of hair care products developed to support the health of your hair following a transplant. The series consists of products for different stages of hair care, ensuring comprehensive support for your hair.
Hair Care Sets
Dr. Cinik's shop offers Hair Care Sets for 3 months, 6 months, and 12 months. These sets include a range of products, including shampoos, vitamins, and other hair care items, providing a complete post-transplant care solution.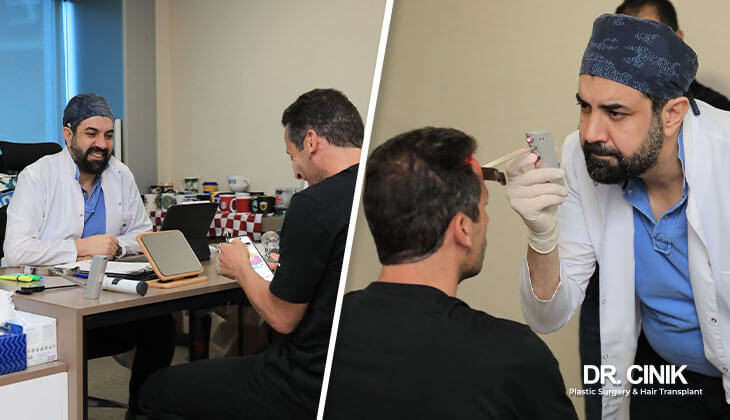 How Can I Get a Hair Transplant Like Ludovic Giuly?
If Giuly's transformation inspires you and you want to undergo a similar procedure, the first step is a consultation with Dr. Cinik's hair transplant team. A comprehensive evaluation of your hair loss situation will be conducted by skilled professionals who will subsequently engage in an informative conversation on potential treatments best suited for you.
In reaching an informed decision on this matter, they shall attentively consider critical elements such as the characteristics specific to your particular type of hair, gauge the extent to which you are personally affected by this condition and factor in aspects about your overall health status. This personalized assessment ensures you receive a hair transplant procedure tailored to your needs, much like Giuly did.
Ludovic Giuly Beard Transplant
In addition to Giuly's hair transplant, Giuly underwent a beard transplant, further enhancing his appearance. This procedure involved transplanting 350 grafts to his beard area, filling in patches and providing a more defined look. Like the hair transplant, this procedure was performed using the FUE method, ensuring precise placement of the grafts and a natural-looking result.
FUE Hair Transplantation: Determining Factors for Candidacy and Applicability
FUE is a modern hair transplant technique ideal for individuals experiencing significant hair loss. The procedure at hand encompasses the retrieval of individual hair follicles from a predetermined donor location and their subsequent implantation into areas exhibiting baldness. What distinguishes this method is its exceptional precision since it allows for careful placement of each singular follicle to create an outcome resembling naturally occurring hair growth patterns. In addition to being minimally invasive, this approach ensures enhanced patient comfort during recovery while facilitating swift healing processes.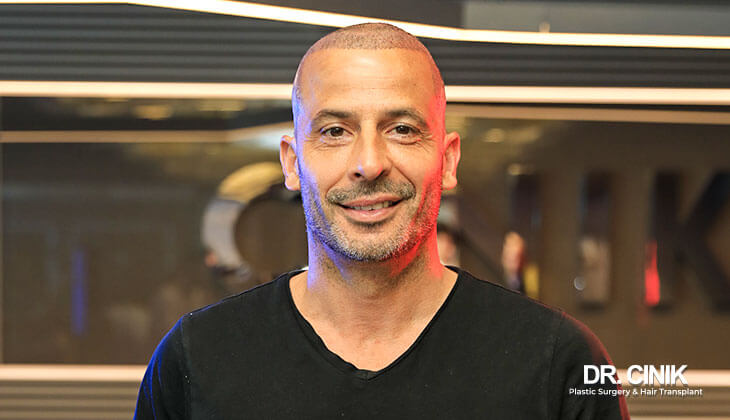 Mindful Steps for a Successful Hair Transplantation Journey
When considering a hair transplant in Turkey, conducting thorough research is crucial. When considering a hair transplant, it is essential to thoroughly research the clinic's reputation, the surgeon's experience, and the specific technique that will be used.
Additionally, understanding the postoperative care necessary for a successful transplant is crucial. This encompasses adhering to the surgeon's instructions on washing and caring for the transplant area, taking prescribed medications as advised and attending all follow-up appointments. By considering all these factors, you can ensure a successful outcome and a smooth recovery process.
The Benefits of Hair Transplantation by Dr. Cinik
Dr Cinik Hair Transplant Hospital in Turkey has become a preferred destination for celebrities hair transplant like Giuly seeking solutions. The clinic offers a VIP service, ensuring a comfortable and personalized experience.
With a team of translators on hand, language barriers are non-existent. The comprehensive packages include accommodation, airport transfers, and postoperative care products, making the process seamless for international clients. The clinic's commitment to high-quality service is evident in its attention to detail and personalized care to each patient.
Conclusion
Ludovic Giuly's hair transplant and beard transplant journey with Dr. Cinik is a testament to the transformative power of modern hair restoration techniques. His decision to address his hair loss has resulted in a striking transformation that has undoubtedly added to his confidence. Hair transplant in Turkey, particularly the FUE technique, has proven to be a game-changer for many men experiencing male pattern baldness. The procedure, coupled with the proper postoperative care involving specific shampoos and vitamins, can yield impressive results, as seen in Giuly's case.
Make an Appointment
Get better health and self-assurance from professional medical attention. Get started now by consulting with one of our experts.
Ludovic Giuly Hair Transplant Before & After
Giuly's transformation post-transplant has been remarkable. His fuller hairline and more defined beard have enhanced his appearance and boosted his confidence, proving the effectiveness of Dr Cinik's procedures. Giuly hair transplant transformation is a powerful example of how a hair transplant can change one's appearance and positively impact their self-esteem and overall quality of life.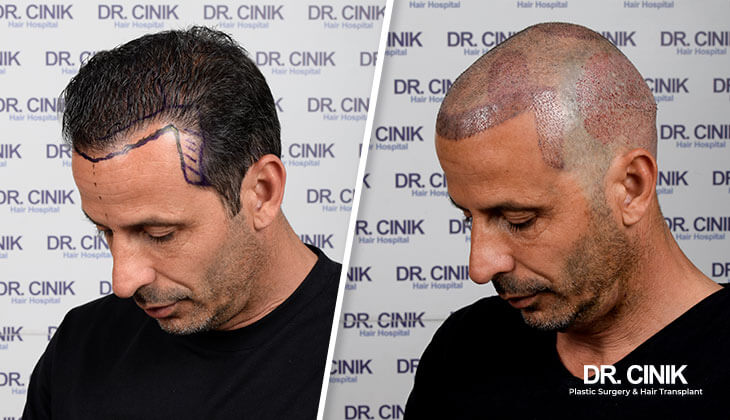 Ludovic Giuly Hair Transplant FAQs
Hair Transplant
The Sapphire FUE method is renowned for its precision, faster healing times, and reduced scarring compared to conventional methods. While the specific reasons for Giuly's selection are his own, the advanced benefits of Sapphire FUE may have influenced his decision.
Needle-Free anesthesia provides a non-painful method for numbing the scalp, reducing the discomfort associated with conventional needle injections. This method can improve the overall patient experience, ensuring that the patient remains comfortable throughout the procedure.
While recovery times can vary from patient to patient, the Sapphire FUE technique typically results in a faster recovery. Within a few days, most patients can return to non-strenuous activities. However, they are advised to refrain from strenuous physical activity for at least two weeks.
Needless anesthesia is a technologically advanced technique that ensures minimal patient discomfort. Eliminating needles reduces the anxiety and pain commonly associated with traditional anesthesia injections, thereby enhancing the patient experience.
Yes, after the Sapphire FUE procedure performed by Ludovic Giuly, DR. CINIK Clinic would have emphasized the importance of post-operative care. They frequently advise their patients, including Giuly, to utilize DR. CINIK Shop hair care products. This collection features specialized hair care products to aid healing, reduce inflammation, and promote new hair growth. These products have been developed specifically to meet the needs of patients undergoing hair transplant procedures, ensuring they achieve the best possible results from their surgeries.