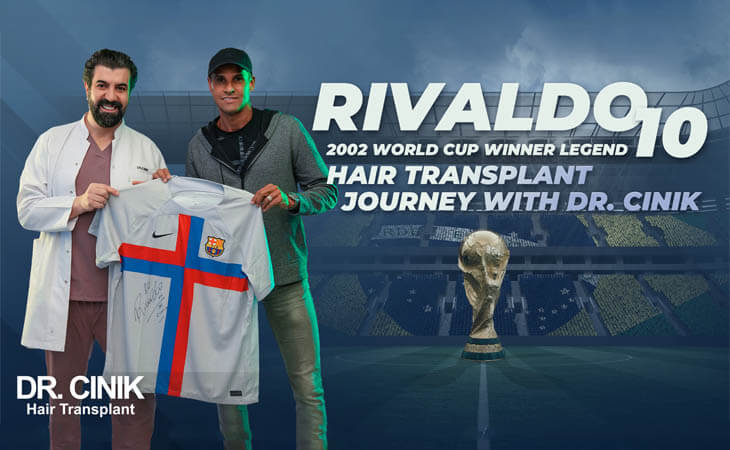 Rivaldo's Hair Transplant Journey
Famous Brazilian football player Rivaldo Vitor Borba Ferreira has recently joined the ranks of renowned athletes who have chosen to undergo a celebrity hair transplants, and his preferred destination was the esteemed DR. CINIK Clinic. What made Rivaldo make this critical choice, and why did he trust Dr. Emrah Cinik to help him get his hair back?
Who is Rivaldo Vitor Borba Ferreira?
Rivaldo Vitor Borba Ferreira, or simply Rivaldo, is a well-known Brazilian soccer player who has made a significant impact on the sport. Rivaldo was born in Paulista, Brazil, on April 19, 1972. He is recognized as one of the top midfielders of his era.
Throughout his lengthy and prosperous soccer career, he has represented clubs such as Barcelona, AC Milan, and Olympiacos, among others. Rivaldo has also played for the Brazilian national team, and he played a crucial role in the team's victory at the 2002 FIFA World Cup.
Rivaldo's Hair Transplant Operation
Dr Emrah Cinik, the leading surgeon, has over 20 years of experience and has performed over 10,000 transplants. His expertise is recognized worldwide. The clinic offers a variety of hair transplantation techniques, including FUE (Follicular Unit Extraction), DHI (Direct Hair Implantation), and Sapphire FUE. We also provide additional treatments like PRP (Platelet-Rich Plasma) and stem cell hair transplant.
Our clinic guarantees optimal, natural, and lasting results due to the professionalism and expertise of Dr. Cinik and our team. Cinik Clinic provides comprehensive care, including post-operative follow-up and long-term support, to ensure optimal results and proper healing.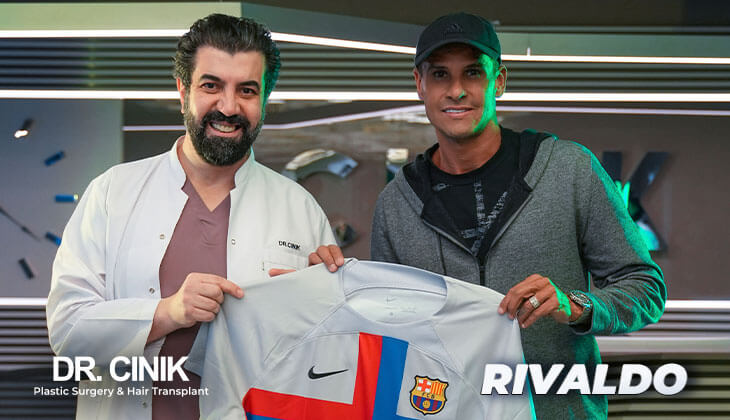 Why Did Rivaldo Choose the Cinik Clinic?
Here's a brief overview of the services offered by our clinic:
Maximum Grafts
Our clinic is capable of transplanting the maximum number of grafts possible in a single session. This means patients can achieve a fuller, denser hair appearance in less time.
Sapphire Blade
Our clinic uses a Sapphire Blade for the FUE method, which is known for its precision and fewer traumatic incisions. This can lead to faster healing and more natural-looking results.
Accommodation
We provide comfortable and convenient accommodations for our patients. This makes the entire process stress-free, as patients don't need to worry about finding a place to stay during their treatment.
VIP Transfer
We offer VIP transfer services to ensure our patients can travel between the airport, hotel, and clinic with ease. This service provides an added level of convenience and luxury for our patients.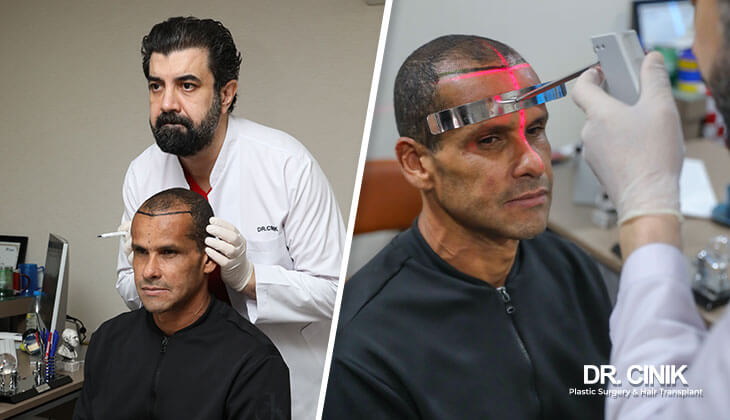 Consultation with Dr. Cinik
Patients have the opportunity to consult directly with Dr Cinik, a renowned hair transplant surgeon. This allows for personalized treatment plans and gives patients the confidence that they are in expert hands.
Blood Test
We conduct necessary blood tests to ensure the safety and success of the hair transplant procedure. This is crucial for identifying any potential issues that could affect the procedure.
Medication & Care Products
We provide all the necessary medications and care products needed for post-operative care. This ensures that our patients have everything they need for a smooth recovery and optimal results.
Hair and Scalp Analysis
Our clinic conducts a thorough hair and scalp analysis to understand the extent of hair loss and the health of the scalp. This helps in planning an effective treatment strategy.
Translator
We provide translator services to ensure clear and effective communication with our international patients. This helps in understanding the patient's needs and expectations better.
First Hair Wash
We also take care of the first hair wash post-surgery. This is important as proper technique and care are required to avoid damaging the newly transplanted hair.
Post-Op Service
Our clinic offers comprehensive post-operative care services to monitor the progress of the transplant and address any concerns or complications promptly.
These services, combined with our reputation and the trust placed in us by high-profile clients like Rivaldo Vitor Borba Ferreira, make our clinic a preferred choice for hair transplantation.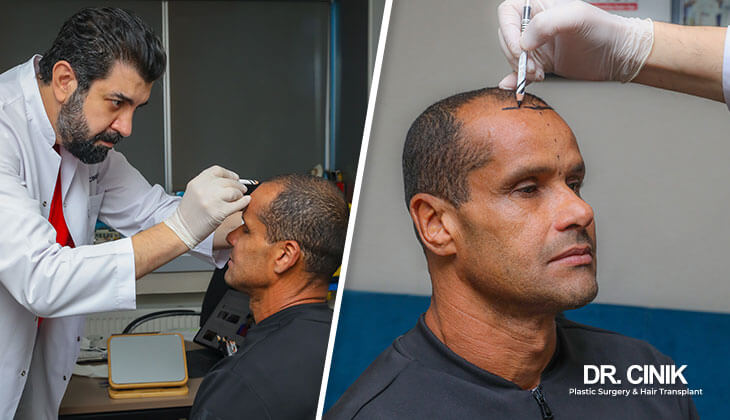 How Many Grafts Were Planted on Rivaldo's Hair?
During Rivaldo's hair transplant at Cinik Clinic, a total of 4000 grafts were skillfully transplanted to restore his hairline and enhance his overall appearance. Grafts are the individual hair follicles that are extracted from the donor area, typically the back of the head, and meticulously transplanted to the recipient area, where hair growth is desired.
The procedure performed on Rivaldo is known as Follicular Unit Extraction (FUE), which is a minimally invasive technique known for its natural-looking results and rapid recovery.
Maximum Grafts
Sapphire Blade
First Hair Wash
FUE hair transplant involves the extraction of individual hair follicles using specialized micro-tools, leaving behind no visible linear scars. These follicles are then implanted into tiny incisions made in the recipient area, mimicking the natural hair growth pattern. Dr Cinik and his skilled team performed the procedure with precision, ensuring optimal density and a seamless hairline for Rivaldo.
What is FUE Hair Transplant? Who is Hair Transplant Applied to?
Follicular Unit Extraction (FUE) is a highly advanced hair transplant technique that has gained popularity among individuals experiencing hair loss. This minimally invasive procedure involves the extraction of individual hair follicles from the donor area and their transplantation to the recipient area. FUE is suitable for both men and women who wish to restore their hairline, increase hair density, or address specific areas of baldness.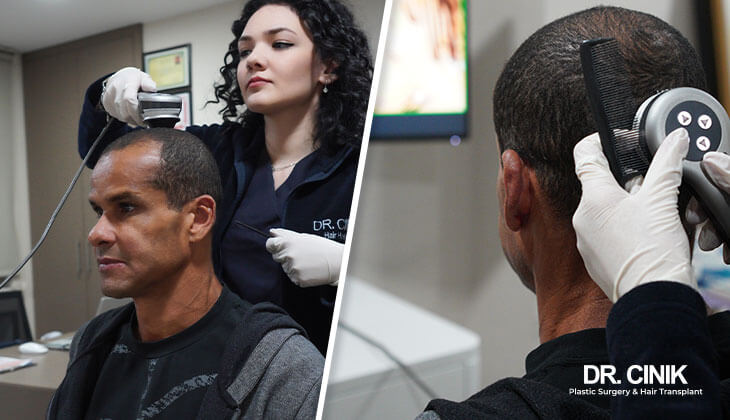 The FUE technique offers numerous advantages, including minimal scarring, quick recovery, and natural-looking results. Patients undergoing FUE hair transplant experience minimal discomfort during the procedure and can typically resume their daily activities within a few days. Dr. Cinik, with his expertise in FUE hair transplant, has successfully treated numerous patients, including celebrities like Rivaldo, helping them regain their confidence and a full head of hair.
Conclusion
Rivaldo Vitor Borba Ferreira's choice to undergo a hair transplant at Dr Cinik Hospital, under the expert care of Dr Emrah Cinik, was a decision that changed his life for the better. Rivaldo got the best care possible at the centre because it had things like VIP service, professional translators, all-inclusive deals and a comfortable experience throughout Rivaldo's hair transplant journey.
With 4000 grafts successfully transplanted using the FUE technique, Rivaldo's hairline was beautifully restored, enhancing his appearance and boosting his self-confidence. Dr Cinik's expertise and the outstanding services provided by his clinic continue to make it a preferred destination for celebrities' hair transplants, further solidifying its reputation as a leading institution in the field of hair restoration.
Make an Appointment
Get better health and self-assurance from professional medical attention. Get started now by consulting with one of our experts.
Rivaldo Hair Transplant Before & After
Rivaldo's decision to undergo a hair transplant in Turkey proved to be life-changing. Before the procedure, Rivaldo had lost a lot of hair, which made him feel bad about himself. But after 4000 grafts were successfully transplanted, Rivaldo's hairline was greatly fixed, giving him a more refreshed and younger look.
Rivaldo's before and after pictures showed that the FUE method gave him results that looked natural. This showed how well the process worked and how skilled Dr Cinik was.
Rivaldo Hair Transplant FAQs
Hair Transplant
At the DR. CINIK Clinic, Rivaldo underwent FUE (Follicular Unit Extraction) for his hair transplant. This technique involves extracting and transplanting individual hair follicles from the donor to the recipient area.
Many patients can resume normal activities within a week following a FUE procedure. However, specific recovery times can vary, and Rivaldo likely adhered to post-operative care guidelines to ensure optimal healing.
Rivaldo was advised to use the DR. CINIK Shop Hair Care Set, a specially curated product line from DR. CINIK, to promote optimal healing and hair growth after his hair transplant. This set guarantees that the transplanted area receives the proper nutrients and care during the critical post-operative period.
After a hair transplant, patients are typically advised to avoid direct sunlight on the scalp and refrain from strenuous activities for a brief period. Rivaldo most likely followed these guidelines to achieve the best outcomes.
Rivaldo received 4,000 grafts, which is above average and typically indicates a large coverage area. However, depending on the individual's needs, grafts can range from a few hundred to several thousand.