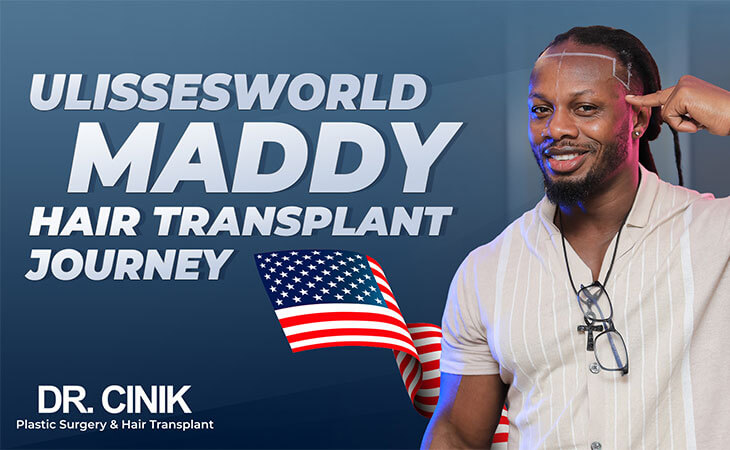 Ulisses Maddy's Hair Transplant Journey
Ulissesworld Maddy has made a name for himself as a top-tier trainer in fitness and football. Earning the respect and admiration of athletes and fitness enthusiasts alike, his dedication to health and fitness is unparalleled. However, Maddy recently made headlines for a different reason – his decision to undergo a hair transplant. He chooses the renowned Dr. Cinik Hair Transplant Clinic in Turkey. Let's delve into the reasons behind his decision, the process of the procedure, and the advantages of choosing Dr. Cinik's hair transplant.
Ulissesworld Maddy is more than just a fitness trainer. Many in the sports business regard him as a mentor, motivator, and role model. His dedication to maintaining peak physical fitness and advocating a healthy lifestyle has earned him a reputation as a sought-after trainer for professional football players.
However, like many men worldwide, Maddy faced the hair loss challenge. Rather than letting it affect his confidence, he addressed it head-on and opted for a hair transplant.
Ulissesworld Maddy's hair transplant decision to share his journey publicly has brought attention to the issue of hair loss and highlighted the practical solutions available today, particularly hair transplantation.
Ulisses Maddy's Hair Transplant Operation
Dr. Cinik hair transplant Clinic is a leading name in the field of hair transplant in Turkey and globally. The clinic offers a VIP service that ensures each patient receives personalized care and attention. For international patients, the clinic provides interpreters to facilitate smooth communication.
Their comprehensive packages cover all aspects of the procedure, from initial consultation to post-operative care. The clinic's commitment to patient care and satisfaction, combined with its use of advanced technology and techniques, sets them apart in the industry.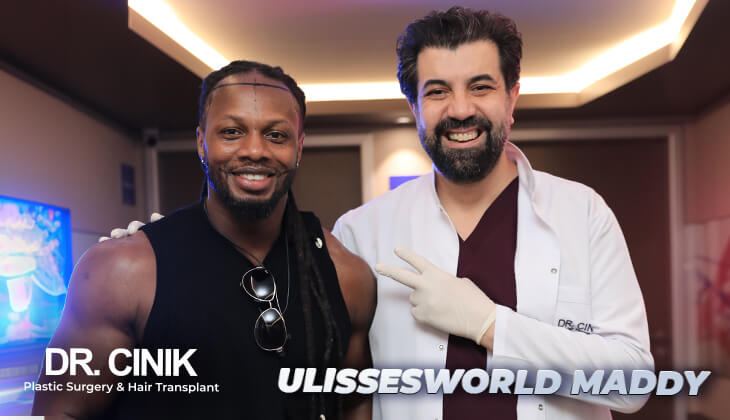 How Many Grafts Were Planted on Ulissesworld Maddy Hair?
Ulissesworld Maddy hair transplant involved the transplantation of 2800 grafts. This figure represents the number of individual hair follicles transferred from the donor area (typically the back of the head) to the bald or thinning areas.
The technique used was Follicular Unit Extraction (FUE), a minimally invasive method that ensures natural-looking results and minimal downtime. This technique is known for its precision and the ability to provide a seamless, undetectable outcome.
What are FUE Hair Transplants, and To Whom is it Applied?
Follicular Unit Extraction (FUE) is a hair transplant technique in which individual hair follicles are taken from the body and implanted in the balding area. It's a preferred method for those seeking a permanent solution to hair loss, offering natural results with minimal scarring. FUE suits men and women experiencing pattern baldness, thinning hair, or hair loss due to medical conditions or treatments.
How Many Grafts Were Planted on Ulissesworld Maddy's Beard?
In addition to his hair transplant, Maddy also opted for a beard transplant. This procedure involved the transplantation of 100 grafts to enhance the thickness and fullness of his beard. Beard transplants are becoming increasingly popular as they can significantly contribute to a more masculine appearance and enhance facial features.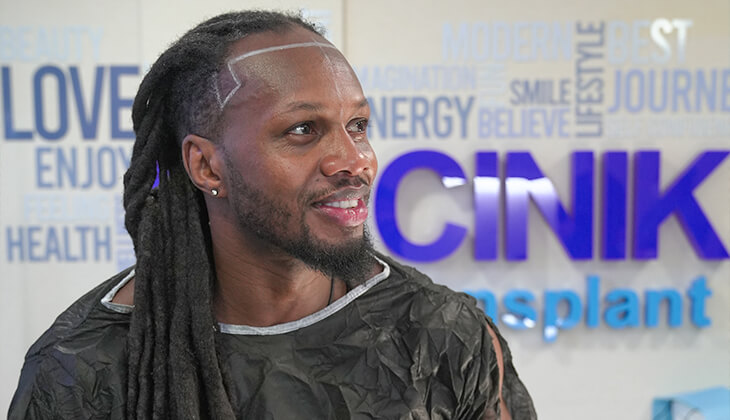 Hair Washing After Hair Transplants: Ulissesworld Maddy's Experience
First Wash at the Clinic: The first wash post-transplant is a crucial step and is usually performed by the clinic to ensure it's done correctly. In Ulissesworld Maddy's hair transplant case, this happened 48-72 hours after the procedure. This first wash is gentle and meticulous, aiming to clean the scalp without dislodging the grafts.
Use of Special Products: During this first wash, the clinic used a mild, sulfate-free shampoo and a special lotion. These products are designed to be gentle on the scalp and not interfere with healing.
Gentle Technique: The clinic staff performed the wash with a gentle technique, avoiding any vigorous rubbing or scratching. They applied the shampoo and lotion carefully, ensuring all areas were covered.
Rinsing and Drying: The clinic rinsed Maddy's hair with lukewarm water using a low-pressure flow. After rinsing, they patted his hair gently with a towel, avoiding any rubbing that could harm the grafts.
Instructions for Home Care: After the first wash at the clinic, Maddy was given detailed instructions on how to continue the washing at home. This included guidelines on the products to use, the technique to apply, and the frequency of washing.
Follow-up Care: Maddy was advised to apply a prescribed lotion or spray to his scalp after washing. This helped to keep the area hydrated and promote healing.
Regular Washing: Following the guidelines provided by the clinic, Maddy continued to wash his hair regularly at home, ensuring the health and growth of his transplanted hair.
By following these steps and the clinic's instructions, Maddy ensured the success of his hair transplant in Turkey. It's important to remember that every patient's experience may vary slightly, and it's always best to follow the specific instructions provided by your hair transplant clinic.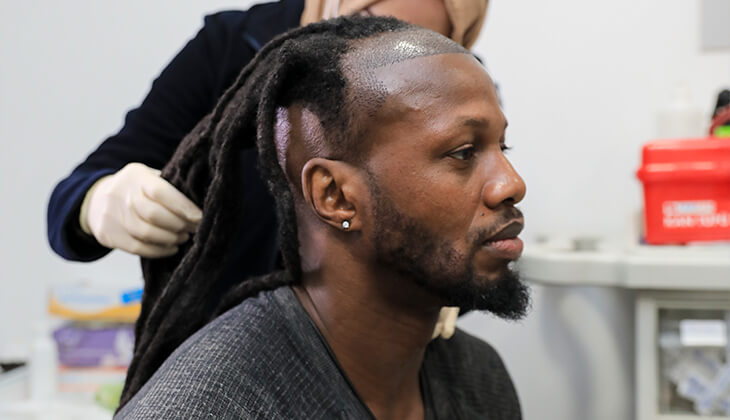 What Should Be Done For Hair Care After Hair Transplantation?
Post-transplant hair care doesn't stop at washing. It's vital to nourish the new hair and support its growth. Dr Cinik's Online Shop offers a range of products specifically designed for post-transplant hair care. These products encourage hair development, strengthen hair follicles, and preserve general scalp and hair health. Among the products are:
CINIK Plus Hair Vitamins
These are specially formulated vitamins designed to nourish the hair from within. They contain essential nutrients that promote hair health and growth. Regular intake of these vitamins can help strengthen hair follicles and prevent hair loss.
CINIK Advanced Hair Care Series
This comprehensive hair care range includes products for daily hair care routines. The series is intended to meet the unique needs of those who have had hair transplants. It includes hair and scalp cleansing, nourishing, and protecting products that promote healthier and stronger hair development.
Hair Care Sets
These hair care product bundles are intended to provide a complete hair care solution. They are available in various lengths, including 3-month, 6-month, and 12-month sets. Each set includes a range of products that support hair health and growth.
All products from Dr. Cinik's shop are produced according to ISO and GMP standards, ensuring their quality and safety. They are approved and registered both locally and globally.
Remember, post-transplant hair care is crucial for the success of the procedure. Using specially designed products like those offered by Dr. Cinik can significantly improve the results and ensure the health and growth of transplanted hair.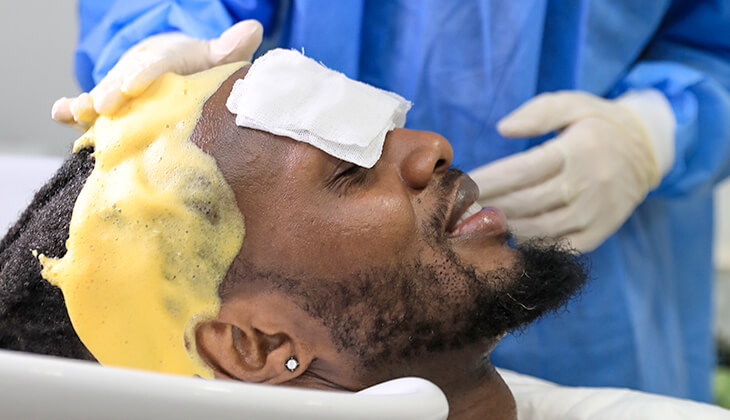 Conclusion
Ulissesworld Maddy's hair transplant journey shines a light on the possibilities of modern hair restoration techniques. Like many other celebrities' hair transplants, his story underscores the effectiveness of procedures like those offered by Dr. Cinik's hair transplant Clinic.
It's a testament to the power of medical advancements in helping individuals regain confidence and satisfaction in their appearance. Maddy's journey inspires those considering a similar path, showing that hair loss doesn't have to be a permanent setback.
Make an Appointment
Get better health and self-assurance from professional medical attention. Get started now by consulting with one of our experts.
Ulissesworld Maddy Hair Transplant Before & After
The transformation Maddy experienced is nothing short of remarkable. Ulissesworld Maddy hair transplant before and after photos significantly improve hair density and coverage, resulting in a younger, more vibrant appearance.
His satisfaction with the results is a testament to the expertise and care Dr. Cinik and his team provided. It's a powerful endorsement of the transformative power of hair transplants in Turkey.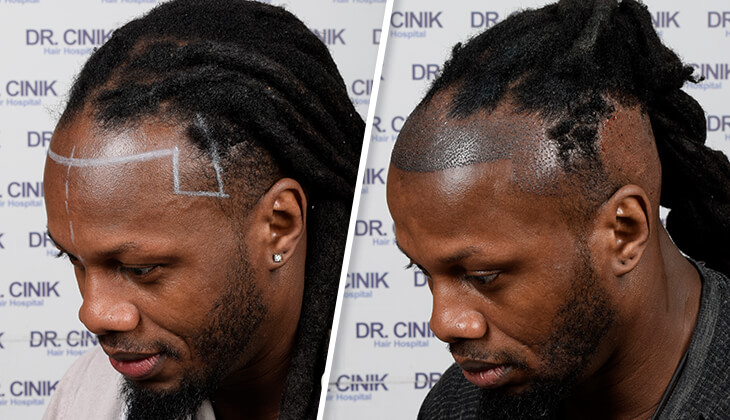 Ulisses Maddy Hair Transplant FAQs
Hair Transplant
Ulisses Maddy chose to address his hair thinning and receding issues with a hair transplant, ensuring that he looks his best in and out of the gym, like many other individuals concerned with their appearance.
Ulisses Maddy underwent the FUE (Follicular Unit Extraction) technique at the DR. CINIK Clinic for his hair transplant. Individual follicular unit grafts are extracted directly from the donor area and implanted into the recipient area using this technique.
Typical FUE procedure side effects can include temporary redness or swelling. The specifics of Ulisses Maddy's post-procedure experience are not widely known, but most patients who adhere to the recommended aftercare find these effects temporary.
Most patients can resume normal activities within a week following a FUE procedure. Ulisses Maddy's specific recovery details would depend on several variables, but he likely followed post-operative care instructions to ensure optimal healing.
After a hair transplant, patients are typically advised to avoid strenuous activities for 10 to 14 days. Considering Ulisses Maddy's line of work, he likely adhered to the recommended healing protocols.